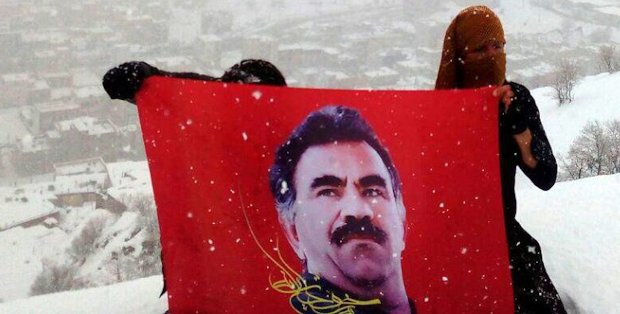 Youth in Rojhelat (East Kurdistan) condemned the February 15, 1999 conspiracy against Kurdish leader, Abdullah Öcalan.
SINE
Youth in Sine (Located in Rojhelat) denounced 1999's intergovernmental conspiracy by mean of handing out leaflets, installing posters on walls and waving placard on the city heights.
In the 18th anniversary of intergovernmental conspiracy against Kurdish leader Abdullah Öcalan, youth in Sine, in condemning activities, distributed hundreds of leaflets in different areas of the city. The statement expressed support for the struggle of the Kurdish people in all parts of Kurdistan, acknowledged "Freedom of the Kurdish people and peace in Middle East depends upon freedom of Leader APO".
MAHABAD
Youth in the suburbs of Mahabad city by means of holding flags of PJAK, KODAR and posters of Abdullah Öcalan, condemned the conspiracy of 15th February. Protest continued with written statement exposing the colonial forces in the region and the world, have announced their alliance to continue and enhance their struggle until freedom of Kurdish leader Abdullah Öcalan.
The statement continued: "All conspiracies against Rojava were dashed, with intelligent youth leading in Kurdish Rojhelat any plot will be dashed also."
KAMYARAN
In the city of Kamyaran and suburbs number of activities have been done condemning the conspiracy against leader Abdullah Öcalan. Youth in the Şahînî village and several other villages condemned the kidnapping of Abdullah Öcalan that done by some of world and middle eastern governments.
In other part of the statement expresses: "Rojava revolution, resistance of Kobanê, Sinjar and Bakur sends the bitter message to the Kurdish enemies that Kurdish people armed with Abdullah Öcalan's ideology and philosophy.
There were some activities by APOist youth of Hewraman conducted in this regard, and in several villages youth have distributed posters and pictures of Öcalan. In Ciwanro, Pawe and Şemşîr also Kurdish youth installed posters of Öcalan on walls.
Rojhelat.info