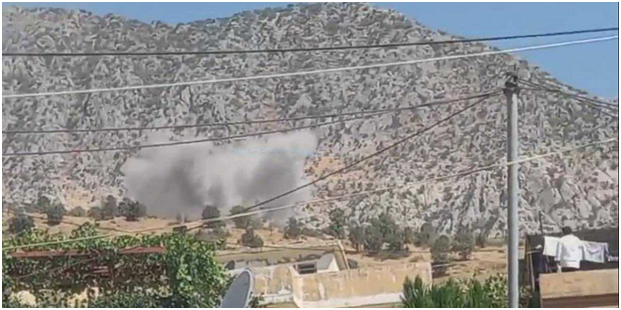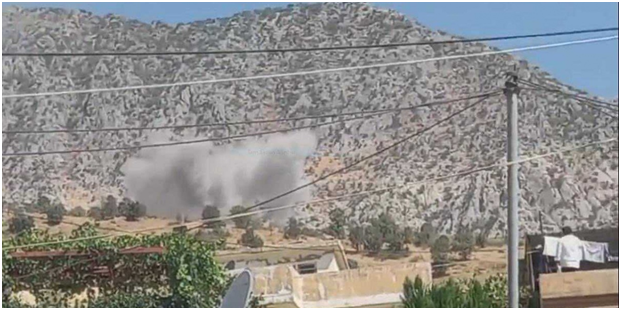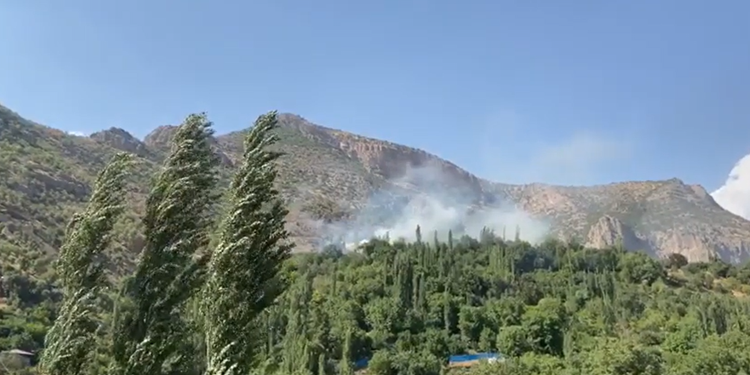 SUNDAY, SEPTEMBER 5, 2021
TURKISH war planes have bombed a Kurdish village in Iraqi Kurdistan with chemical weapons, local officials told the Morning Star, demanding that war-crime investigations be opened.
Missiles loaded with chemicals struck Berwari Bala village in the mountainous Duhok province which borders Turkey in the early hours of Saturday, they said.
Health officials said they had treated three residents for the effects of toxic gas, with symptoms including shortness of breath, an irregular heartbeat and blurred vision.
Resident Cihad Hirure said that Turkish fighter jets had bombed the village: "A white chemical gas has spread many kilometers wide in the area. We think that this was a chemical bomb."
Serbest Sabri, an official in the district of Kani Masi, said: "After the bombardments an unidentified gas has spread around the area. We estimate that this was tear gas and deployed medical teams to the area."
Doctor Rasul Mohammed, head of the medical centre in Kani Masi said: "The situation of one of the wounded is unstable. This person suffers from severe breathing problems. Also a 70-year old woman has severe difficulties with breathing and suffers from vomiting."
Turkish jets bomb Kurdish village with chemical weapons amid calls for war crimes investigations
Earlier this year the Morning Star reported from the ground on how Kurds in Berwari Bala were being driven from their homes, which were being handed over to jihadists shipped in by Turkey from Syria and Libya.
The latest attack comes days after the Makhmour refugee camp, home to 12,000 Kurds, was hit in a Turkish drone attack.
Ankara, which began its military operation in April, has been accused of a litany of atrocities, including the destruction of churches and acres of forest land, while thousands of Kurdish villagers have been forced to flee.
Kurdish officials told the Morning Star that war-crime investigations must be opened against Turkey following its recent air strikes on a busy marketplace, a refugee camp and a hospital in Shengal.
Turkey appears to be bogged down in what has been described by Kurdish militia as "an unwinnable war," as its ground troops meet fierce resistance.
Turkey's war is opposed by all regional parties with the exception of the Kurdistan Democratic Party (KDP), the leading party in the Kurdish regional government. It stands accused of siding with "the Turkish state's fascist colonial attacks" at the cost of the blood of the Kurdish people.
On Saturday its Peshmerga forces killed at least seven Kurdistan Workers' Party (PKK) fighters in an ambush at a crossing in the Xelifan region. A PKK statement said that the attack caused "significant harm to the Kurdish people's freedom struggle" and warned the KDP against initiating a bloody intra-Kurdish conflict.
According to PKK sources, Turkey has used chemical weapons in 17 separate attacks on its forces over the weekend with "heavy drone and aircraft reconnaissance activity continuing," though these claims have not been verified.
Earlier this year a Morning Star report on a chemical attack on guerilla fighters from the PKK in Avashin led to calls for a commission of inquiry in the Turkish parliament.
https://www.morningstaronline.co.uk/article/w/turkish-jets-bomb-kurdish-village-chemical-weapons-amid-calls-war-crimes