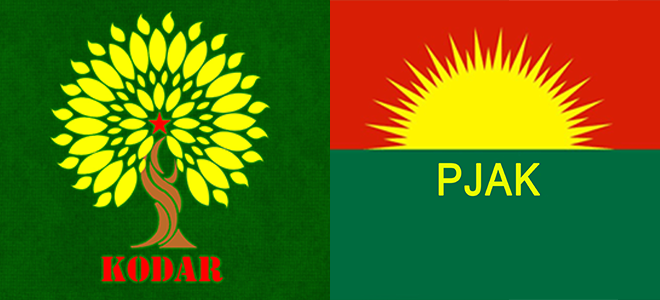 In an announcement, Free and Democratic Society of East Kurdistan (KODAR) and Free Life Party of Kurdistan (PJAK) jointly reported on drafting a comprehensive project to resolve the ongoing crisis in Iran and western Kurdistan.
In the announcement, KORDAR reported: "Iran is facing a destructive economic, political and social crisis and it is reaching its blasting point. Nations of Iran will not tolerate the situation and the regime has no choice but to find a solution as it is incapable of suppressing the people like it could in past. In the midst of internal and external crises of Iran, Iraq, Syria, and Turkey, and with the global powers pursuing their goals in the region, Kurdistan has turned into the center of the third world war. Therefore, the situation requires a comprehensive democratic project with the goal of achieving a popular and free society in Eastern Kurdistan and finding a resolution without war and destruction in Iran and Kurdistan."
KODAR added in the announcement: "In recent years Kurdistan was the battleground for invading forces such as Turkey and Islamic State. It is predicted that the fire of regional war will eventually reach Iran. In the last 40 years of ruling of the Iranian regime, the country is at risk on a global level and the people are facing unbearable economic, political and social crises. Despite the regime's nature of using force and suppression in the last four decades, it has not succeeded in finding a resolution to problems. Throughout the 2017-2018 Iranian protests, the regime used force to crush the voice of people. The protests and complaints are reaching a level that it is impossible to contain or suppress. None of the foreign powers, nor any of the oppositions in Iran has a plan for finding a resolution without war and destruction. The global powers have realized this weakness and are aiming to worsen the ongoing crisis. KODAR have already warned that freedom of nations and the act of democratizing are the only highest priority topics that require addressing."
Today, the policies of pressure and subversion are applied against the Iranian regime and in return, the conservative system does not consent to a democratic solution and that prevents the chance of turning threats into a democratic opportunity. Furthermore, there is a possibility of Iran turning into another Syria. On the other hand, the current regime of Iran continues its unacceptable political encounters against Kurds, Azerbaijanis, Baluchis, Arabs, etc. which among them, Kurdish question is more acute and global and it can protect the Middle East, Iran, and Kurdistan against the current thunder of war.
The KODAR adds at the end: "It is required to find a resolution to the issues of Iranian nations and East Kurdistan amid the potential world war three. KODAR is the only system that practically and literally has a modern plan and project under the name of Confederation and Democratic Nation and even has the legitimate military protection force of the society. This democratic project is a project for "people and the mass" and addresses those who seek a solution. The demands of KODAR is raised in the form of proposals and several fundamental points. In this regard, KODAR's goal of presenting a project for the democratization of Iran and East Kurdistan is a democratic project without discrimination and distinction among nations. Even in the political the project offers no discrimination parties, let it be foreign, Iranian or Kurdish. Freedom of women and nations are the basis of the project for the revival of the society. It demands the unity of the Kurdish nation and opposition, Kurdish political and civic organizations so that they can play a democratic-political role in Iran. It does not discriminate among any political, national, religious and racial entity and even participates in the revival of the society. Iran and East Kurdistan's societies are closer than ever to freedom and KODAR will make the best out of this opportunity. Presenting the comprehensive project of KODAR and PJAK is also a sign of goodwill in democratic-political actions and calls everyone to fulfill their political, and ethical duties within the democratic nation. In this regard, KODAR officially announces its democratic project for the public opinion. With the hope of reviving a democratic and free Iran and Kurdistan with the labor and effort of nations."