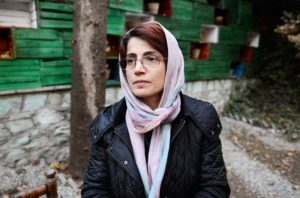 Recently Reza Khandan, husband of Nasrin Sotoudeh met his spouse in Iran's Evin prison. According to him, the Islamic Republic of Iran has arrested his wife for "gathering and colluding against national security" and "propaganda against the regime".
In a protest, Reza announced the list of 20 lawyers who were approved by the Judiciary for political and security cases and said he will not introduce a lawyer to the judiciary of the Islamic Republic.
Nasrin Sotoudeh's husband added: If her arrestment continues, she will take off her scarf not only to protest the Islamic Republic's actions but also in support of The Girls of Revolution Street.
Reza Khandan expressed that the prison authorities are "filing" a case for Nasrin: "I am aware that they (authorities) want Nasrin to sit at home and don't seek civil and political activity cases such as; The Girls of Revolution Street or having interviews on media outlets. I  think they are confused, they've been arrested, and they've filed for her now."
Reza Khandan added: "Nasrin mentioned to me that she is arrested by Republic Islamic of Iran because she is the lawyer who tirelessly defended The Girls of Revolution Street cases. Furthermore, Nasrin considers 'forced hijab' inhumane and violation of individual right, and if the authorities continue the arrestment, she will take off her scarf in detention.
Nasrin Sotoudeh is a social activist and a lawyer who was arrested on 13th of June by Iranian security guards. Nasrin was also detained from 2010 to 2013 in Tehran's Evin Prison.
Source: Firat News Agency ─ ANF