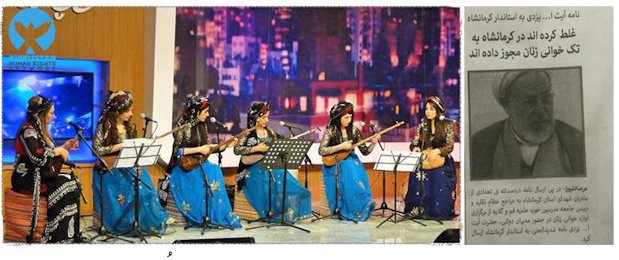 Religious extremists have continued to attack solo female artists in Kermashan (Kirmaşan) as the head of Qom Seminary Teachers Society (QSTS) has been demanding more restraints on "such unlawful acts" in a public letter to local governor.
Kurdistan Human Rights Network (KHRN) reported that on 29 January of this year at the conference of of Iran's Architectural History, the Dayrak Khatoon's music group performed a short piece of Kurdish music with the presence of four members of the band, who had later came to the attention of people with close links to the Islamic Revolutionary Guards (IRGC)
Dayrak Khatoon's music band was also scheduled to perform at a musical event on 2 February at the international Festival of Nations but was later banned due to women artists performing solo music tracks in their music.
The banning of the band from playing did not stop religious extremists attacking the music group.
On 28 February, Mersad news published a letter by QSTS head Ayatollah Yazdi's addressed to the governor of Kermashan regarding the performance of women in the music group, saying: "Kermashan is Iran province or Italy or France? Why you do not prevent this unlawful act while you are watching it? Everyone who has allowed guilt will get in trouble on judgment day by God."
The governor of Kermashan replied to the letter, a copy of which was published by IRNA, saying: "Responsible people and members of the band have been summoned by judiciary system for the unintentional error."
What was sent unsigned and without sender's certifications was the Architectural History of Iran event on 29 January, it was not a ceremony, just in five-minute part of the scientific programme during which over sixty scientific papers were presented, a group with the permission of the province performed the song.
According to several reports there was a technical problem in the audio devices that made the voice of one member of the band to be heard better than the others at the previous event, and there were no permissions for solo performances.
The Dayrak Khatoon's music group is a band including women playing Tambour instrument, and they have performed for their fans in several different cities and venues for several years now.
Source: Kurdistan Human Rights Network ─ KHRN
Translated by Rojhelat.info