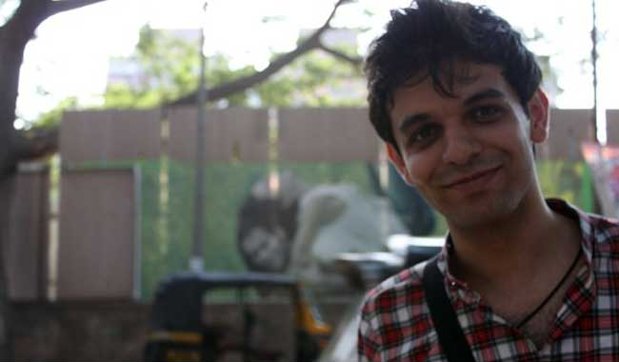 On Saturday, February 25 jailed Kurdish documentary filmmaker Keywan Karimi was attacked and beaten by inmates at Evin Prison.
According to a report by the Human Rights Activists News Agency (HRANA), Karimi's attackers were inmates serving time for crimes not connected to political offenses or violations of national security. Karimi is a political prisoner because he his being incarcerated on charges of "propaganda against the regime" and "insulting the sacred" in connection with his documentary about political graffiti in Tehran, Writing on the City.
During the attack, which took place at Evin's Ward 8, Karimi sustained an injury to his left leg, which had recently undergone surgery for the removal of a tumor.
Evin Prison officials had refused to send Karimi to the hospital because he had refused to wear what he said was an infected prison uniform.
This is the third time in recent days that a prisoner of conscious has been attacked by common criminals at Evin. The musician Mehdi Rajabian and another political prisoner, Vahid Sayadi Nassiri, have faced similar attacks.
According to the HRANA report, prison officials refused to hospitalize Karimi despite the medical opinion of the prison's own clinic. Karimi's leg had been operated on 10 years ago to remove a tumor but the doctors, both inside and outside the hospital, determined that he needed another urgent surgery to prevent serious bone marrow diseases.
Following the attack, 12 other political prisoners told prison officials that if no action was taken to stop such targeted acts of violence, they would embark on hunger strikes. Political prisoners at Evin have repeatedly protested against the refusal of prison officials to separate them from common criminals. Many of them believe that officials either turn a blind eye or actually encourage common prisoners to attack political prisoners.
Keywan Karimi was arrested in October 2013. The Revolutionary Court sentenced him to six years in prison and 223 lashes, but in February 2016 the appeals court reduced the jail sentence to one year, although the lashes punishment remained in place.
According to his lawyer, Karimi's film Writing on the City has not even been publicly screened. The film looks at how graffiti has changed in Tehran in recent years, particularly in response to political and social events. Karimi was also sentenced to receive lashes as punishment for having "illicit relations" because he shook hands with a woman to whom he was not related.
Karimi is from a Kurdish background and began filmmaking at a young age. He holds a degree in media studies from the University of Tehran and has so far produced 12 films, as well as contributing to a number of photography projects. Some of his films look at the situation of Kurdish people living on the border between Iran and Iraq. One documentary, The Broken Border, was awarded best short documentary at the Beirut International Film Festival in 2013. The film looks at the lives of people affected by the fuel smuggling trade between Iran and Iraq, and about wildlife in the area.
Source: HRANA, IranWire