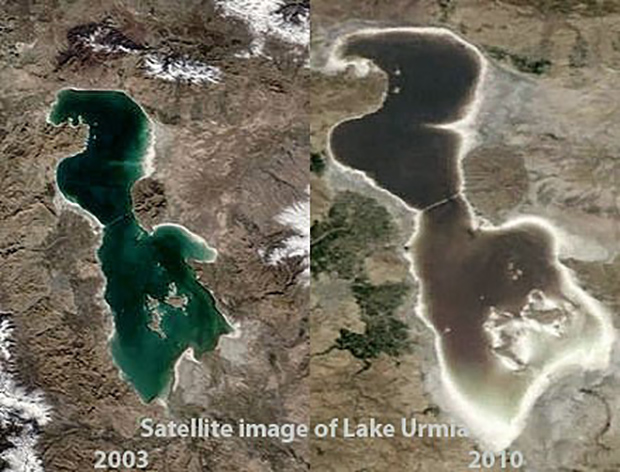 Zrêbar Lake of Meriwan as greatest sweet water lake of the world has improper situation and needs serious attentions but the relevant agencies of Iranian regime do not pay attention to this ecological matter. Urmiye Lake's condition also became critical and despite of regime claims for its revival, until now no serious action has taken place.

According to Iranian Labour News Agency (ILNA) report, Zrêbar Lake is one of the most unique sweet water lake of the world which is located in three kilometers Northwest of Meriwan.
The existence of this lake among beautiful oak and other kinds of wild tree forests has created a magnificent piece of land in northwest of Meriwan that became one of the most important tourist attractions from the tourism perspective. Zrêbar has been exposed to serious threats as a result of great damages to its ecosystem in the past few years.
The sweet water of this lake was provided from the springs in the lake's floor, this is while nowadays most these springs cannot guide water to the surface because in the past few years, influx of sediment and silt accumulated at the bottom of the lack blocked the exit of these springs and the rest of springs as well are under serious risk.
Right now the most important environmental factors in polluting the Zrêbar Lake are entering sewage containing fertilizer and animal waste in raining season from the villages of western side and indirect entrance of part of human sewage of residential areas of Meriwan and its surrounding villages along with sediment and agricultural effluent of those fields around the lake. Until now the regime's relevant agencies did not allocate any credit to dredging up the lake and prevent the entrance of sewages.

A faculty member of Environment (Persian: Mohite Zist) University, Hamid Sarkheili, in the 13th international environment exhibition warned that in case of not reviving the Urmiye Lake, we will witness "salt tsunami" phenomenon in northwest of Iran which results in destroying agricultural fields, air pollution and poisoning the residents of that area.
He emphasized: the most important factors in drying the Urmiye Lake are indiscriminate use of grandwaters and lack of management of water sources. This member of strategic safety, environment and health workgroup by declaring more 20 million people in 23 provinces of Iran suffering from dust phenomenon said: destruction of natural habitat and water resources leading to creation of dust resources.
Sources: Firat News Agency (ANF), Iranian Labour News Agency (ILNA)
Translate: Rojhelat.info