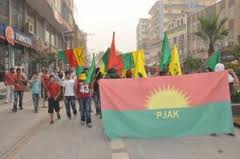 STOCKHOLM, Sweden, — Youth Committee of PJAK (Kurdistan Free Life Party) organised a petition campaign outside of Swedish parliament in a bid for the freedom of Abdullah Ocalan, recognised by millions of Kurds are their legitimate and national leader.
Youth Committee of PJAK organised a rally outside of Swedish parliament, in which the passers by were asked to sign petition for freedom of Ocalan while leaflets were distributed among them.
The leaflets casted attention on the strict isolation of Ocalan who has been denied family and lawyers visits for the last 16 months.
The campaign is reportedly continues despite the cold weather and has been embraced by the Kurdish and Swedish communities.