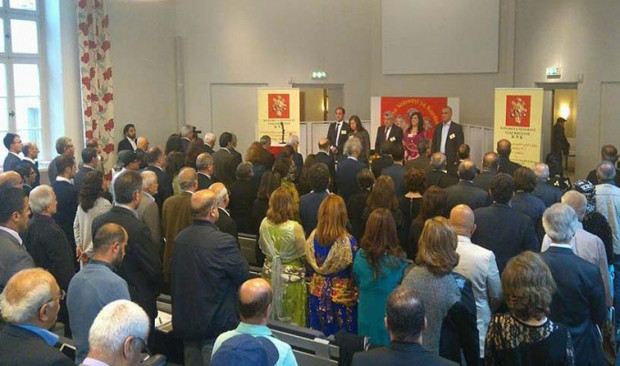 A two-day workshop, which was held in Stockholm, released its final declaration after discussions on Rojhelat (eastern Kurdistan) and Kurdish national unity.
The workshop is a part of series of workshops which are organized as a preparation for National Unity Conference.
More than 150 representatives from political parties and NGOs attended the workshop and discussed the problems of Rojhelat and shared opinions about the solution of Kurdish question in Iran and Kurdish national unity in general.
The discussions concluded that the problems in Rojhelat are not independent from other parts of Kurdistan and all problems should be evaluated from a national perspective rather than local.
The final declaration set Rojava as an example for all parts of Kurdistan as it's a model where people from different ethnicities and religious background live together side by side.
Hacî Emedî, member of Coordination of KODAR (The East Kurdistan Democratic and Free Society), underlined the importance of developing a common strategy for all Kurds and said "All Kurdish political parties and organizations should come together. We should achieve national unity. But bringing only Kurdish parties and organizations together is not enough. We should make sure that NGOs, intellectuals, artists and academics are a part of this effort."
Communist Party of Iran (KOMALA) representative Ferhad Şabani said that the workshop is the first step for a cooperation between Kurdish parties and organizations. Şabani stated that the representatives agreed on the future objectives and principles for cooperation and these will be declared to the public after the workshop.
Co-chair of Free Life Party of Kurdistan (PJAK) Siyamend Moînî said the workshop reached its goal and the level of attendance to the workshop is very positive.
"We were here representing PJAK. We tried to fulfill our duties. We held very productive discussions over important issues. We discussed how we can form a common mechanism to struggle together. Anyway a dialogue process started between parties and organizations. We think that we reached a consensus over important issues" Moînî added.
Zubeyir Aydar, co-chair of Kongra-Gel, an umbrella organization of Kurdish parties and NGOs, was also very positive about the workshop. He pointed out the level of attendance and said every major city and almost all of the political organizations were represented in the workshop.
Aydar also said that the workshop will have a very positive effect on the relations between Kurdish political parties.
The Rojhelat workshop will be followed by Rojava workshop on 1-2 October. Kurds in Europe will hold a workshop in the Netherlands between 13-14 October.