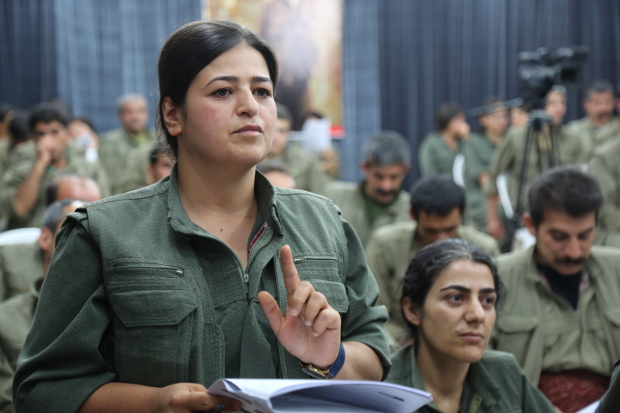 Zîlan Tanya co-chair of the East Kurdistan Democratic and Free Society (KODAR), in an interview with Gazete Şûjin site, explained some of KODAR's approaches toward Iran upcoming elections.
Zîlan Tanya in an interview with the Gazete Şûjin noted some important aspect of the election:
Holding the election in such environments has its own characteristics. On the one hand the region is under threat of foreign military intervention, on other hand, fighting of freedom-loving peoples for their rights, against the policy of the nation-states. Ethnicities in Iran while denying the Islamic Republic's policies, are opposed to foreign intervention also.
Without a doubt, political situation in the world and its changes, will affect the election. Meanwhile, Iran's election will have effect on global policy to some certain points.
Situation in the region and the world has changed, now people in Iran are keener than before, their political awareness has improved. Now people are relying on their power and determination to achieving freedom, which it is promising.
It is necessary for the people of Iran to have join cooperation and effort with common positions in relation to their liberation for a system that it is in their interests. Accordingly, they are able to run and manage their own demands under one umbrella.
Since conditions for peaceful life with others are ongoing in Rojava, all ethnicity and religions in Iran could come together as united likewise.
Islamic Republic nearly forty years, relying on its fascist ideology, in addition ignoring the identity of Iranians. Under Iranian law, women are not allowed to candidate for the presidential election, and marginalized by the government in every aspect. Therefore, it is necessary for women to realistically analyze the situation and fight for their demands.
At this point it is necessary to work and fight actively under the united umbrella in a join political and intellectual program. We are asking the Kurdish people of Rojhelat (Eastern Kurdistan) to be full alert with the framework of freedom movement for the upcoming elections. Women as always been the frontline of the struggle to advance their plans to bring fundamental changes.
Rojhelat.info