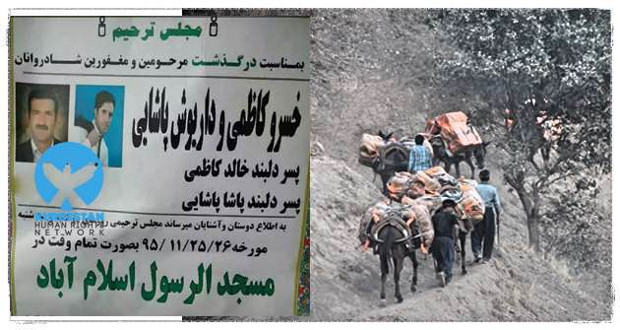 Few days ago, Islamic Republic border guards targeted several Kurdish Kolbers and traders, due to that two Kolbers have been killed and one wounded.
According to Kurdistan Human Rights Network (KHRN), on Sunday, 12th February at 6 AM, some of Kurdish Kolbers and traders who were carrying wares on border between Rojhelat and Bakur (Iran-Turkey borders), have been shot by border guards.
2 Kolbers from Xorxora village of Selmas region, with the name Xosro Kazimî, 42 years old and father of 5 children, and Daryuş Paşayî, 35 years old and father of 2 children have been killed. Another Kolber with the name Mêhrdad Hemoyî from Dêrik village of Selmas region has been seriously injured.
An informed source on this issue told KHRN, border guards opened fire without any former warning and directly targeted them and brought them down at very same place. Following to this border guards' ambush, a Kurdish Kolber, Bêhzad Elîzade has been captured.
Kolbers (Carriers) are the people who are forced to carry goods for living, and carrying goods across the borders by passing mountains from unofficial custom points, in return to very low wages. Thousands of Kurdish villagers which trying to feed their family, because of the economic hardship and lack of jobs and opportunities, having no choices, they became Kolbers and cross the borderto get some money for their family.
Every year dozens of Kolbers wound and kill by Iranian border guards, and sometimes they have to bribe the border guards and Iranian security forces, while they get a very small amount of money by doing Kolberi.
Source: Kurdistan Human Rights Network ─ KHRN