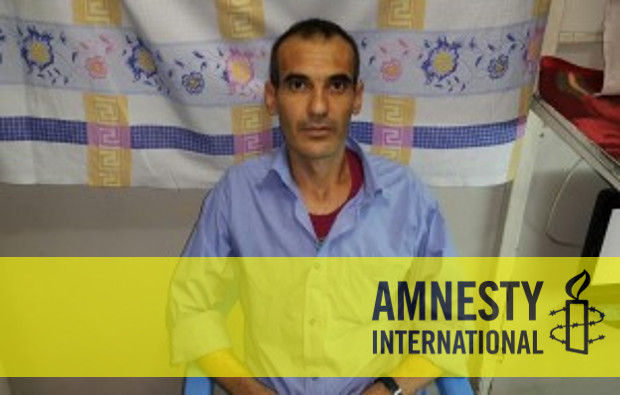 Amnesty International calls on the Iranian authorities to urgent medical treatment for a Kurdish political prisoner, "Iran: Jailed Syrian Kurd in Iran needs surgery: Ramazan Ahmad Kamal".
"Ramazan Ahmad Kamal, a Syrian Kurd serving a 10-year prison sentence in Iran, needs urgent medical care, including surgical treatment. On his way to hospital on 30 December with a postoperative infection, he was beaten by prison officials. He was returned to prison after two weeks without receiving adequate medical care.", published on Amnesty International's official web site.
Ramazan Ahmad is originally from Kobanê (Rojava, Syrian Kurdistan region), he was arrested in 1999 near the town of Mako in Rojhelat. He was shot 5 times in his leg, arm and abdominal areas.
"Kurdish political prisoner Ramezan Ahmad Kamal emerged from coma on 2 January but he remains unconscious, the medical staff have remained silent about the reasons of his coma." reported by Kurdistan Human Rights Network (KHRN) on 4th January.
Ramazan Ahmad has written a letter signed by 22 other prisoners detailing human rights violation for which they hold responsible officials of the Islamic Republic of Iran. In his letter he is describing his health condition and how he has suffered physical pain during his time in the prisons of Mako, Ghazvin, Ûrmiye, Rajai Shahr and Evin.
In another report by KHRN mentioned that on Wednesday 30 December, Ramazan Ahmad was scheduled to be transferred from his ward to the hospital to receive medical care. When he left the ward, he was awake and it seems that he had fainted while on the road between the prison and the hospital.
Clik this link to view Amnesty International's original report.
Rojhelat.info