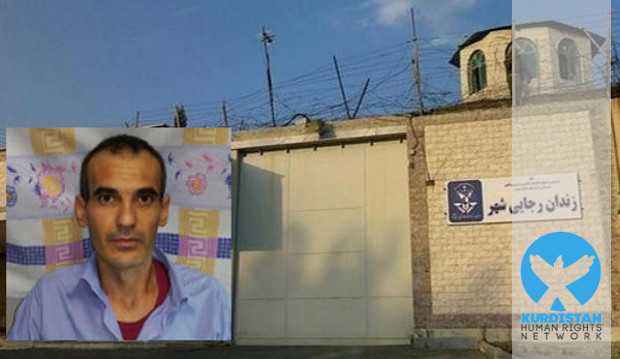 ROJHELAT, KHRN ─ A Kurdish political prisoner who originally comes from Kobane (Rojava), Ramazan Ahmad, has written a letter signed by 22 other prisoners detailing human rights violation for which they hold responsible officials of the Islamic Republic of Iran.
Local human rights activists told Kurdistan Human Rights Network (KHRN) that Ahmad had been transferred to Iran's Rajaee Shahr Prison in Karaj district despite an urgent need for surgery after he was brutally beaten by prison guards and spent six days in coma.
Below is the English translation of the letter written by Ahmad and signed by 22 other prisoners to a Special Rapporteur, detailing vast human rights violations at the prison for which they hold responsible members of the security forces and the judicial councils of the Islamic Republic of Iran.
Letter:
My name is Ramazan Ahmad; I am originally from Kobane (Rojava, Syrian Kurdistan region).
I was arrested in 1999 near the town of Mako in Iranian territory.
I was shot 5 times in my leg, arm and abdominal areas and I was later charged with membership of the Kurdistan Workers' Party (PKK).
I have since been detained in the prisons of Mako, Ghazvin, Ûrmiye, Rajai Shahr and Evin.
I have suffered very much physical pain during my time in prison.
During the eight years of my imprisonment I underwent two surgeries for my arm injuries but both resulted in the arm being fully paralyzed.
Last year I went on hunger strike and was finally able to get a court permit for additional much needed operations on my arm at a private hospital, but was beaten unconscious by the guards upon arrival.
I spent six days in coma after being beat and the injuries on my head and nose are still visible.
They (the authorities) have denied everything and blame my conditions to drug poisoning.
I feel a moral obligation to voice my concerns for the international organizations about these inhumane conditions imposed on me and many other inmates, and hold the Islamic Republic of Iran responsible for crimes committed against detainees at the Rajaee Shahr prison.
The following are names of the prisoners in Gohardasht who signed the letter in support of Kamal's claims.
1. Saeed Masouri
2. Saeed Shirzad
3. Zanyar Moradi
4. Loqman Moradi
5. saleh Kohandel
6. Latif Hassani
7. Sahin ZoghiTabar
8. Reza Akbari
9. Khaled Hardani
10. Karim Maerouf Aziz
11. Pirouz Mansouri
12. Batid Shah Mohammadof
13. Omid Ghazian
14. Farid Azmoudeh
15. Hamzeh Sawari
16. Behzad Tarahomi
17. Vahid Asghari
18. Payman Arefi
19. Abolghasem Fouladwand
20. Masoud Arab Choubdar
21. Hoshang Rezayi
22. Irej Hatami
Source: Kurdistan Human Rights Network ─ KHRN