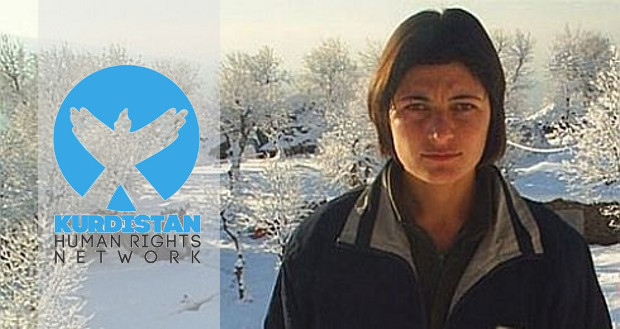 On International Women's day, 8th March 2015, a global day to celebrate the global struggle women at least four women, Kurdish political prisoners, are in three different prisons held in appalling conditions. Kurdistan Human Rights Network has obtained the latest information, through reliable sources, in regards to four Kurdish women being held in prisons in Iran. The four women include Ghadrieh Ghaderi, Golnaz Ahangkhosh, Razieh Hakimi and Zeynab Jalaliyan, who holds one of the harshest sentences of imprisoned women in Iran. All four prisoners are deprived of the most basic human rights, including the right to defend themselves.
Unfortunately the number of Kurdish women imprisoned in Iran are unprecedented however due to limitations of obtaining confirmed information the Kurdistan Human Rights Network has been unable to provide details of other Kurdish women also imprisoned.
Zeynab Jalaliyan – Xoy (Khoy) prison
Zeynab Jalaliyan is a political prisoner condemned to life imprisonment, today is the 8th anniversary of her arrest. Jalaliyan is 32 years old and comes from the Deim Qeshlaq village in the outskirts of Maku City; she was arrested in March 2008 in the city of Kirmaşan. Jalaliyan was initially accused of membership of the PJAK (Free Life Party of Kurdistan) and sentenced to execution by the Kirmaşan (Kermanshah) Revolution court. This was later overturned and the sentence was reduced to life imprisonment.
In December 2014 Jalaliyan was transferred from Kirmaşan rehabilitation and training center to Xoy prison. For the past few years Jalaliyan has been transferred out of specialized rehabilitation clinics in Kirmaşan several times despite Ophthalmologist's diagnosis and reports of plea to keep Jalaliyan in the clinics and prep for eye surgery. However both the prosecutors and the Kirmaşan court, her treatments has been interrupted and she has been placed back into prison – causing her eyesight to further deteriorate. Even after Jalaliyan's transfer to Xoy Prison due to security reasons, officials in Kirmaşan still denied and refused to facilitate her treatment. The fact that Xoy prison has limited health services complicates the situation further and is a point of serious concern.
In addition to Jalaliyan's health concerns three weeks ago two visitors who were introduced as journalists visited her in prison for a video interview. It wasn't until Jalaliyan refused to participate in the interview that it became apparent they were security guards disguised as journalists. The two guards proceeded to threaten Jalaliyan in order to not participate or communicate with media and human rights organisations.
Despite the significant concern for the situation in which Jalaliyan is held in and her deteriorating health, her visiting conditions have improved at Xoy Prison. After a year of not being able to see her family she was granted permission to have family visitors. Xoy prison is also a more convenient location as they reside in Maku which is very far from Kirmaşan but closer to Xoy. Her family is poor and the distance and cost of travel now makes it possible for them to meet. Although, Jalaliyan made several requests to be moved closer to home several times during her years in Kirmaşan, she was constantly denied.
Ghadrieh Ghaderi – Yasuj prison
Ghadrieh Ghaderi is a Kurdish political prisoner who is kept in the female part of Yasuj Central Prison. Ghaderi has currently suffers from a severe ear infection, migraines and difficulty of movement in one of her hands.
Ghaderi is a 25 year old Kurdish citizen who was arrested during June 2011 in Urmiye and was kept in solidarity confinement for two months following her arrest. Through these two months Ghaderi was ruthlessly tortured, both mentally and physically, in order to obtain her confession. Her torture was so severe that even after her transfer out of solidarity confinement she was unable to physically move or consume food or water for two weeks. Ghaderi was then sentenced to 10 years in prison by the Urmiye Revolutionary Court, accused of coorperation with the PKK (Kurdistan Workers' Party). After an appeal of the sentence her term was reduced to 7 years in prison.
Ghaderi has been transferred in and out of hospital several times in the last three months, due to her worsening health condition, where physicians have requested a CT Scan- which is yet to be carried out. Reports claim that Ghaderi is forcibly transferred in handcuffs and a chador every time she is taken to hospital and this has caused protests from other women in the prison.
After a request of transfer from Urmiye prison to Yasuj Prison was made to both attorney's in each district, it was agreed by the courts that transferred would be permitted upon the payment of one billion tomans (a currency used in Iran, 1 toman equals 10 Iraninan rials)  to the courts. Although Ghaderi's assurance payment was made in full and a request of transfer was sent to Urmiye prison, Ghaderi was kept there until the 6th of July 2013 when she was finally moved to Yasuj Prison.
Razieh Hakimi
Rezieh Hakimi was arrested on the 25th of August 2014 in one of surrounding villages of Urmiye city with several other Kurdish youth by the Protection Forces of Urmiye Revolutionary Guards.
The forces sent to arrest these detainees were given the order to shoot and as a result Hakimi was shot and wounded during her arrest. She was transferred to Taleghani Hospital in Urmiye for two days before she was transferred to the Revolutionary Guards Ramadan Security base where she was held for one month. During that month Hakimi was interrogated and accused of membership to PJAK (Free Life Party of Kurdistan). She was later also accused of joining armed warfare and transferred to the female cells of Urmiye Central Prison.
In Urmiye central prison, Hakimi was refused treatment for her bullet wounds, refusing to admit her to hospital even after signs of her worsening health. The bullets wound have since been infected and the trauma of the wounds continues to this day with no treatment. Officials of the Revolutionary Guard claim that Hakimi had intended to join PJAK.
Golnaz Ahangkhosh
Golnaz Ahangkhosh was arrested in June 2014 near Berdereş village on the outskirts of Urmiye city with several other Kurdish citizens by Revolutionary Guard forces.
Iran's official forces has received information regarding the presence of a number of PJAK forces around Berdereş village and surrounded the village in an attempt to siege the PJAK forces, this caused a break out of warfare between the two forces. This is here Golnaz Ahangkhosh and several other citizens were arrested in the region near the fighting with the accusation that they intended to join PJAK.
Due to artillery bombardment of the city by regime forces Ahangkhosh was wounded by shrapnel and arrested by the regime forces. Following her arrest, regime forces transferred her to their security headquarters in Urmiye and interrogated her for 40 days. Ahangkhosh was then transferred to the female cells in Urmiye prison accused of intent to join PJAK and involvement in armed warfare. On the 5th of January 2015 Ahangkhosh and 15 other Kurdish citizens awaiting trial were condemned for their, accused, involvement in armed warfare by branch 1 of the Urmiye Revolutionary Court but a sentence is yet to be issued.
Kurdistan Human Rights Network