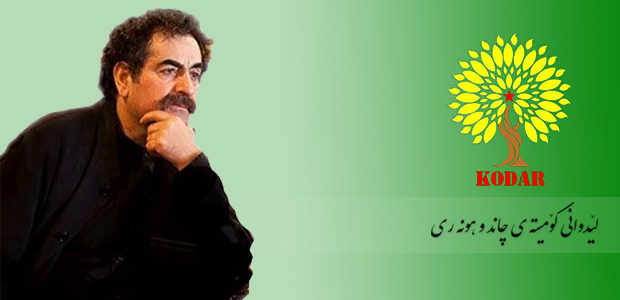 Art and Culture Committee of KODAR (Democratic and Free Community of Rojhelat), Bestun Culture Centre, all of whom condemned the Iranian totalitarian groups (hostilely positions) against Shahram Nazeri by the inscription statement.
The statement of the art and culture committee says that, while at the eleventh cabinet of Islamic Regime there has been much discussion over the respect and importance of the different cultures in Iran, but most of the attacks were carried out in this period were against the Iranian nations particularly the Kurds. This provides the lack of transparency, political, and cultural totalitarianism.
The Committee adds during recent days, the great singer Shahram Nazeri, after ten years, performed a great social concert. The concert was with widespread interest by the people, but the hostile positions taken by the individuals and the fascist parties, are related to the Iranian regime.
Pro-Sepah Agency, Raja News (Iranian revolutionary guards) described the Kurdish folk music as "Min minalî Kurdim, Farsî nazanim …", which translates to: "I am Kurdish child, I do not know Persian …" as a nationalism and anti Persian.
Bestun Culture Centre states, "the most recent attack took place while Nazeri had done meritorious services to the flourishing of Persian art and culture."
Bestun Culture Centre has sent its greetings to the Great Kurdish singer Shahram Nazeri and congratulated his concert to Nazeri after 10 years in Kirmashan (Kermanshah).
The Bestun Culture Centre protests and condemns the aggression position by the Persian nationalists. Also confidently declared support for the great Kurdish singer Shahram Nazeri and the Kurdish folk art and cultures.
In this regard, in support of the Grand Master Shahram Nazeri, a group of Kurdish cultural activists and journalists launched a Campaign on Facebook called "Kirmanshan is the Kurdish city and the Kurdish language is our identity". The page was greeted with 9,000 likes in the first minute.
The Iranian Kurdish singer, musician, and composer Shahram Nazeri has been known "Iranian Sing Cavalier" has released more than 40 albums with epic and mystical themes during his 30-year career.
Earlier in 1999, Ahmet Kaya and other Kurdish singers were given an award by the Magazine Journalists Association. While receiving the honor, Kaya said, "I am receiving this award on behalf of everyone struggling for human rights. In my next album, I will sing in Kurdish and will make a Kurdish video clip. I am sure there are courageous TV people who will air this." These words turned the hall of the luxury Istanbul hotel upside down. Turkish artists and journalists, nearly all Kemalists and nationalists, protested, even throwing their forks and knifes at his table. Kaya barely escaped with his life from the attacks of racist writers and artists, all for expressing the wish to sing in Kurdish.
Rojhelat.info