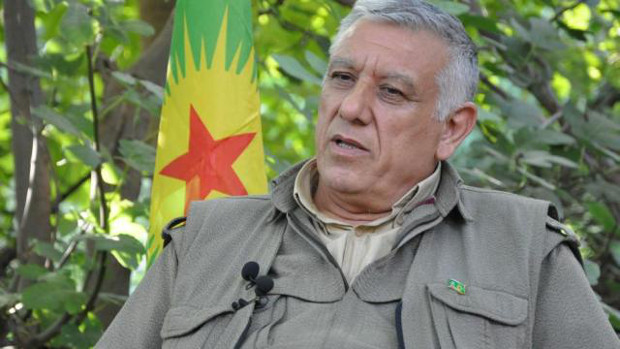 Cemil Bayik: Iran executed three Kurds in order to satisfy Turkey. Co-president of Kurdistan Communities Union (KCK) Executive Council Cemil Bayik stated that Iran wants to satisfy Turkey that is why it executed three Kurds.
In an interview with the Özgür Gündem newspaper, Bayik said the Iranian government wants to forge alliance with Turkey against the Kurds. He also mentioned that the main organiser of the Islamic Iraq and Sham State is Turkey.
He affirmed that the recent diplomatic wars against the Kurds have been led by Iran. The recent executions are the result of a planned politics, he said and continued that they are not random events.
He confirmed that Iran wants a continuous war in between PKK and Turkey as assumes that they can only restrain dominance of United States and Israel in the region on that way.
Bayik affirmed that although the conspiracies against Kurds planned by these governments have been defeated, yet, Iran wants to collaborate again with Turkey. Thus it executed Kurdish political prisoners. However, they don't consider the fact that their conspiracy had already failed uniting again against the PKK.
Bayik mentioned that the First and Second World Wars in the Middle East ended up with lack of a political status for the Kurds. We are now facing a Third World War in which Kurds are not in the same position as before and will attain their political status in the current shift in the Middle East.
He assured that the Kurds are the main players in the Middle East. This confirms that a new Middle East would not be formed without Kurds and the PKK.
He is optimistic about the presence of Kurdish liberation movement in Rojava (West Kurdistan) saying the movement will assure peace for all peoples in the region a part from Al-Nusra and the Islamic State of Iraq and Sham (ISIS) organisation. He also believes that the Kurdish movement do not only secure safety and security for the Kurds, rather it will achieve it also for Syrian government, USA and Russia.
Bayik addressed several important facts regarding Turkey's role in the war in Rojava stating: most members of the ISIS are from Iraq. 2000 prisoners who fled or were released from the Iraqi prisons have positioned themselves in this organisation. Other members are from Chechnya. The leadership of this organisation is in Istanbul organised by the Turks. The leadership includes 2 Chechnya and one Iraqi. The Turkish Intelligence Service has assembled them up in Istanbul and formed the leadership of the organisation. In fact, it is Turkey in which conducts this organisation and lead them to war against the Kurds in Rojava.
He exposes that this organisation has members from all over the world and trains their members in Hatay, Dilok (Gaziantep) and Riha (Urfa). A part from Turkish government, Fethullah Gülen movement and HÜDA PAR organisation partake in training and sending out members to Kurdistan to fight against Kurds.
Translated by: Rojhelat.info