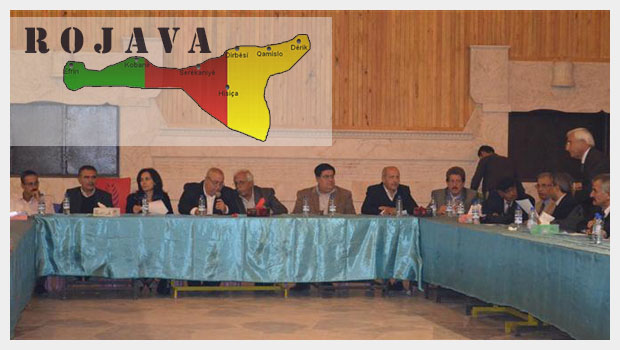 ROJAVA, QAMISHLO – , In 10 Nov 2013 was held a summit in Qamishlo with participation Kurds, Arabs, Chechens and Christians delegations in case of forming interim transitional administration proposed by Democratic Union Party (PYD) in the Rojava region.
The participating groups at the meeting agreed on the establishment of an interim transitional administration formed of three Cantons as"Kobane, Efrin and Cizire" in Rojava after two days of talks on Tuesday 12 Nov 2013, said Hekem Xelo member of the Rojava General Assembly to Hawar Agency.
Xelo remarked in order to the local management project was approved a General Assembly in north of Syria (Rojava) including 82 members from Kurds, Arabs, Chechens and Christians representatives.
High Committee for the Rojava General Assembly is composed of 13 representatives covering 2 for Efrin Canton, 2 doe Kobane Canton and 9 for Cizire Canton, Hekem Xelo added.
The main task for Current Interim Management is drafting local elections and its activities also drafting constitution. We are trying to solve the defensive, political and economic problems, acknowledged Xelo to Hawar Agency.
Translated: Rojhelat.info