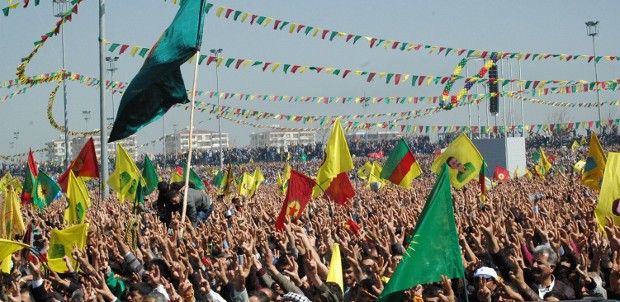 Shiler Amini Armandi — I Spent my First Newroz in 2013
Since the very first time I watched the Newroz celebrations on television, live from the Kurdish city of Amed in northern Kurdistan, I have been mesmerized by the thought of participating at least once during my life time.
This past Newroz it finally happened. I decided that this Newroz would be the one. Did it have anything (or everything) to do with the then rumoured speech by the Kurdish leader Abdulla Ocalan? Or was it the images of the early Newroz celebrations from the city of Wan that captured my heart and would not let go?
Either way I picked up the phone while watching the singer Ciwan Haco enter the stage on TV, live from Wan, and be greeted by thousands of expecting fans with loud cheers and slogans: 'Biji Newroz' (Long live Newroz) being one, 'Biji Serok Apo' (Long live leader Apo) another, as if they were each other's missing pieces, conclusions or just like the water to the plant and vice versa.
Before I knew it I had booked the tickets, packed and was with a crew of six, boarding the flight that would take me to the utopia of my heart, which I was hoping would be anything but a utopia. I was so excited, so happy yet I was still miles and miles away from what would come to be the best trip in my life so far. The first Newroz I can count as having celebrated to the full. Kurdish style. 'Kesk u sor u zer' style (the colours of the Kurdish flag: green, red and yellow).
I have cried during this trip and cried some more. I have laughed on this trip and held hands on this trip. I have let my sentimental Kurdish heart be filled to the brim with goodness and kindness and Kurdishness and respect and everything that is good in this world and makes me want to make it even better.
My first tears came on the flight. I saw young and old, bashuri and bakuri, rojhelati and rojawayi Kurds on the Turkish airlines carrier to Amed, to celebrate a Newroz, which is still not recognised in Turkey. I was delighted that we were all united in our wish to see the fire of Newroz burn freely in yet another part of our wonderful land, but at the same time sad that we had to endure the fear that comes along with having the Kurdish colours or Kurdish dresses in one's luggage at a Turkish airport security control.
I was not worried about the over weight of my bags due to me over packing running shoes, comfortable clothes and scarves for the hostilities and clashes that happen every Newroz in Amed and the rest of Northern Kurdistan. I was ready to be a part of that. To partake in the resistance against Turkish police brutality. To partake in the unity that came along with being a group standing up to a bully. I was ready to say that I had been to Newroz in Amed and felt and experienced what my people experience every Newroz, every time, every day.
And then it finally happened. Our plane landed and as the plane acted as a taxi taking us to our final destination, I looked around to take it all in. What I was met with was nothing short of a heartbreak. An abrupt end to an illusion I had carried with me. I am not a child. I know what is going on. I have seen it on TV. "Seen it on TV", that says it all. I had not experienced it with my own eyes since I grew out of my pink pony pyjamas at the age of 5. Now I was seeing it live.
Military trucks. Military people. Military tents and military planes. My beloved Amed was a military station in every sense of the word. My heart was broken and I had not left the plane yet.
But it was to be mended as soon as I heard: "Hun bixerhatin Amede" (Welcome to Amed). I realised then that many other things had changed since I was 5 besides the colour and design of my pyjamas. People greeted me in Kurdish wherever I looked. I was home. I was finally home!
A quick gathering of the group, checking up on impressions and the warm winds blowing our way and we were soon in a car heading for the Sur district of Amed to meet with district mayor Abdulla Demirbash.
No appointment. No official procedures. No stiff bureaucracy. Just plain humanity welcomed us at the door, decked out in green, red and yellow balloons in honour of the approaching Newroz celebrations.
We met with this humble man, protector of ethnic diversity. Protector of minority languages. Protector of religious diversity. Abdullah Demirbash was wearing Kurdish clothes in a beautiful dark green colour, reminiscent of the dress worn by the Kurdish guerrillas. One of his sons, Baran is a Kurdish guerrilla, another has been called to do military service in the Turkish army.
"Baran's mother and I cannot sleep at night whenever we hear the military planes rise above Amed. What if another attack occurs? What if Baran and our other son meet on the battle ground?"
Two brothers, left with no alternatives than to take up arms and fight on two sides of the same battle, within one land.
One land with its borders decided over on a negotiating table while fat cigars were smoked and middle aged men in suits decided what once belonged to one united group of diverse people, now would be cut into streaks and pieces between those whose lungs bore to scream the highest.
Soon after, we left for the hotel. Thanked Demirbash for his hospitality and promised to meet again during the Newroz celebrations the next day. We left for the hotel. Stepped out of the car. Took out our luggage. Inhaled the scent of resistance and hope while a white minibus drove past with the large speakers on the side proclaiming: "Newroza we piroz be" (Happy Newroz) followed by information about the importance of 2013's Newroz, namely freedom for Ocalan and a political recognition of the Kurdish people.
This was our first day in Amed. I was already in love and I was already fearing the moment I would set my foot on the plane home.
The morning of the 21st I woke up, dressed up in my Kurdish dress from eastern Kurdistan with that specific waistband and shoulder shawl. The group of six all did the same, and as we were from all parts of Kurdistan except rojawa, so were our clothes. While on our way to the Newroz field we saw young and old people decked out in the Kurdish colours and most in Kurdish dresses decorated with sequins and pearls, waving, laughing, and jumping of joy.
The 20-minute car ride felt like a few seconds as the anticipation was high and everywhere I looked, I was met with a smiling face wishing me a joyful beginning to the New Year.
We arrived. Went to the security control. Passed by one of few police vehicles that only a few months ago had been used in disturbing Kurdish events by the use of water canons and teargas. They were covered with dots, marks after stones thrown at them during past events.
These were the only police vehicles I saw. It bode well for the Newroz celebrations but also for the always-unstable peace dialogue that has just begun standing on formerly crippled feet.
The event itself cannot be described. The songs. The yellow, green and red flags. The scene decked out in the same colours. The people in the same colours. The Kurdish dresses sold in the same colours. The incredible feeling of pride when 2 million eager Kurds sing the Kurdish national anthem, not once but twice in one loud voice. I did not know if to take photos, sing along, say hello to all friendly faces or to ease my goose bumps.
Newroz in Amed cannot be summarized by a 3-page retelling, or by a 10-page booklet or a 300-page book. It has to experienced.
You have to go and eat newly made bread from the people on the festival area.
You have to sit next to a "dayiken ashti" (peace mother) and let her tell you about the two sons that she has lost due to the war.
You have to visit the great wall of Amed and dance with youngsters singing songs praising the Kurdish liberation movement the guerrilla fighters.
You have to drink dew (cold yogurt drink) and eat newly peeled cucumbers from a stand after your dance.
You have to visit the mayor of Amed, Osman Baydemir, and give your opinions on improvements for the city and hear him reply: "We are not leaders, we are the servants of our people and I carry your suggestions close to my heart".
You have to answers questions of where you are from only to be given hugs and kisses and gifts when they realise you are not from bakur but from another part of Kurdistan.
You have to ease your goose bumps whenever they tell you: "You are our guests from our common land. You have come all the way from rojhelat to spend Newroz with us. This makes us proud, this makes us united! Bixerhatin, ser sera, ser chawa"! (Welcome from the depth of our hearts).
That is when you will feel at home, and realise that the utopia of your heart is reality in Northern Kurdistan today and that neither military stations nor over weight luggage can take that feeling away. You will know in your heart that in Amed you will always be welcomed by a friendly face decked out in "kesk, u sor u zer".