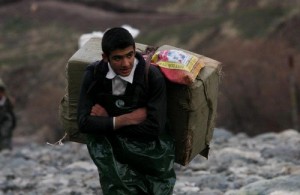 ANF, Hewler — It came out on Saturday that Iranian military forces killed three Kurdish youngsters involved in border trade in West Kurdistan on 6 February.
According to the report by ANF Sorani service, Iranian military forces attacked a trade caravan led by Kurds in the region of Sahabettin, located between the eastern and southern Iranian borders on Wednesday. After slaughtering at least 77 horses in the caravan, the military forces reportedly seized all the goods and set them on fire.
Soldiers of the Iranian army then threw three Kurdish youngsters off a cliff after tying them up from their hands and feet. The youngsters killed in the massacre are reported to be 18 years-old Rızgar Kemal, 16 years-old Hüseyin Mıhemmed Çavşin and his 20 years-old brother Hoşyar Mıhemmed Çavşin.
After hearing about the genocide three days later, on Saturday, villagers in the region have today rushed to the region to look for the bodies of three victims who were later found dead at the foot of a cliff and then taken to the city of Bane.
Firat News Agency
(en.firatajans.com)