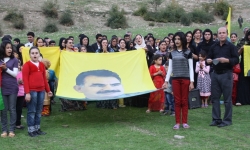 QENDIL, — The children of Qendil Slope opened an exhibition to display their photos in an effort to depict what have happened to the Kurdish minors residing in those areas.
Balayan Hill in Qendil Slope hosted an exhibition for Kurdish children organised by the Centre for Free Women, local sources said, entitling it as "Martyr Sulin and Soniya", two Kurdish children who lost their lives in air strikes by Turkish warplanes.
It was reported that the exhibition was warmly welcomed by the local people in particular the student children and their teachers.
The exhibition was opened by a speech made by Sozdar Mecid, a leading member of Centre for Free Women who welcomed the attendants while explained the reason for the opening of the exhibition.
War and skirmish have always occurred in Kurdistan and particularly in Qendil Zones there have always been air strikes and bombardments, she said and added, for this reason we have decided to open this exhibition entitling it by the names of those who have lost their lives particularly the "martyred children" to ease the pain taunting our children.
The attending children looked around the exhibition and the photos on the walls. A song, whose opening lyric is a word by Kurdish national leader Abdullah Ocalan saying "freedom would emerge from childhood" was sung by a group of minor students.