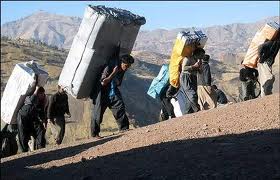 NEWSDESK, — Unrelenting killing of Kurdish kolbers on the borders divided Kurdistan is reaching a tragic stage. This time it was the Turkish soldiers who fired on the kolbers and wounded one, report said.
Turkish soldiers fired on a group of kolbers carrying goods on their backs, wounding one from East Kurdistan named as Sadiq Huseni.
Kolbers are those workers ferrying goods such as fuel, crystal, clothes etc across the border selling them on the black market. Dozens of them are killed each year while many more wounded.
Widespread unemployment in East Kurdistan have driven hundreds of Kurdish youth—some highly educated—to the pseudo-borders of Kurdistan engaging in such a perilous task.
The attack in this instance was reported on the village of Amanorte in Wan province which injured Sadiq Huseni a Kurdish youth working on the border to make the living.
Sadiq was taken to the hospital by the local people and he is reported to be not in a good health.