20 January 2021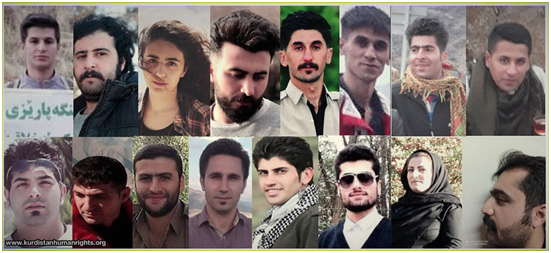 The new wave of arrests of Kurdish citizens and activists in different cities by the security forces of the Islamic Republic of Iran, which began on Saturday, 09 January 2021, continues.
According to the Kurdistan Human Rights Network, at least 41 people have been arrested so far in the cities of Mahabad, Bokan, Marivan, Sanandaj, Rabat, Saruvabad, Piranshaher, Naqadeh, Karaj and Tehran. Of these detainees, only one has been released after 6 days in detention and another 40 are still being held in the detention centres of the two security agencies of the Revolutionary Guards and the Ministry of Intelligence in the cities of Urmia, Sanandaj and Marivan.
According to the latest news that has reached the Kurdistan Human Rights Network through informed sources in the cities of Bokan, Piranshaher and Naqadeh in the West Azerbaijan Province, at least 13 Kurdish citizens and activists have been arrested by security forces today and yesterday and taken to unknown locations.
Security forces raided their family homes and confiscated a number of personal items, such as cell phones and laptops. A number of these detentions have also been accompanied by severe verbal and physical violence.
As stated by the Kurdistan Human Rights Network, Fariba Ahmadi, Rojin Mohammadpour, Fouad Mohammadpour, Hirsh Rasoulpour, Mohammad Haji Rasoulpour, Ali Zolfi and Hossein Mehrabani were arrested in Bokan yesterday, Tuesday, 19 January 2021. Furthermore Karim Khalifani, Hesamuddin Khezri, Rahman Ebrahimi, and Rasoul Lavazeh in Piranshahr, Diako Zartushti in Naqadeh, and today, Wednesday, 20 January 2021, Qader Rasoulpour were arrested in the village of "Alikand" in Bokan.
The Kurdistan Human Rights Network had previously announced the names of 28 detained Kurdish citizens and activists, including their names, dates, and locations.
Saturday 9 January 2021;
Asrin Mohammadi in Tehran
Aram Yousefi in Sanandaj
Farzad Samani and Sahib Badruj in Karaj
Shapol Khezeri, Darya Talabani, Salar Rahui, Sirvan Nuri, Afshin MamAhmadi, Sirvan Husseinzadeh and Iman Abdi in Mahabad.
Bahman Yusefzadeh, Farhad Musapour and Faraidun Musapour in Rabat.
Azima Naseri in Bokan.
Dana Samadi, Sirvan Karimzadeh, Karwan Minuyi, Zanyar Muhtamedi and Salman Advayi in Marivan.
Sunday; 10 January 2021
Jabar Piruzi in Marivan
Monday 11 January 2021
Hussein Gardeshi in Bokan
Tuesday 12 January 2021
Adel Parvazeh in Marivan
Siyamak Advayi and Akram Advayi in Saruabad
Thursday 14 January 2021
Soran Mohammadi in Mahabad
Saturday 16 January 2021
Amir BayazidiAzer in Laj Village in Mahabad
Monday 18 January 2021
Fardin Advayi in Saruvabad
Kaveh Kermanshahi, a committee member of the Kurdistan Human Rights Network, has previously said that the number of recent detainees is likely to be higher than these names. Regarding the reason for the arrest and the scope of their activities, he stated: "Most of the recent detainees have been active in various fields of civil, cultural, environmental and student life and some of them are ordinary citizens.
The security forces not only did not provide any court order or legal reason for their detention, but also arbitrarily and illegally and using verbal and physical violence to detain them. Despite the pursuit of the families, no convictions have been formally announced against them so far."
He described the recent arrests as a continuation of the ongoing crackdown on citizens and activists critical of the government's policies.
"This is not the approach of the new government, and in recent years, it has never stopped, so let's talk about starting again. We only observe this intensify scope waves at times."
Referring to similar cases of mass detentions in recent years, the human rights activist said that security scenarios and pressure for forced confessions by intelligence agencies were one of the common methods after such mass detentions: "Some of these simultaneous and mass arrests appear to have been made in connection with a joint case by the intelligence agencies." He expressed concern about the possibility of these scenarios and cases being fabricated, the continued detention of detainees, the conditions of detention of detainees, as well as the possibility of using psychological pressure and physical torture to suppress them. These detainees, while supporting all prisoners and political detainees demanded their immediate release from the security agencies and judicial authorities of the Islamic Republic of Iran.
20 January 2021
The source: Kurdistan Human Rights Network