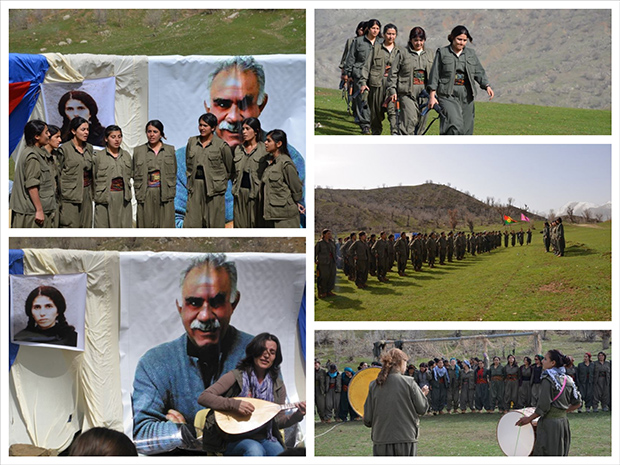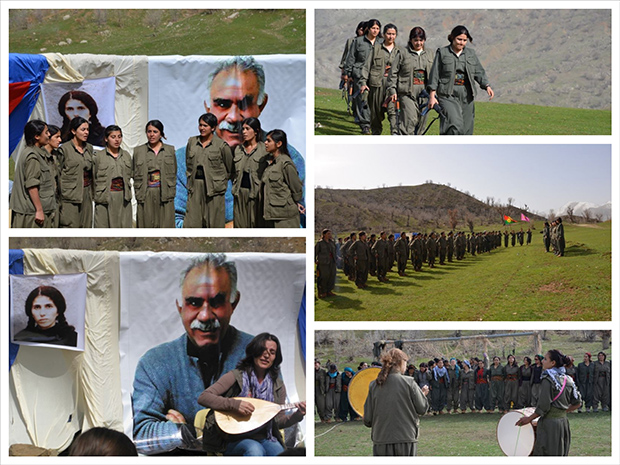 ANF — BEHDINAN, Female guerrillas in Media Defense Areas came together for the celebrations to mark the 8 March International Women's Day.
The celebration was attended by hundreds of female guerrillas including KCK (Kurdistan Communities Union) Council of Presidency member Zaxo Zagros, Kurdish Women's Movement (KJB-Koma Jinen Blind) Coordination members Roza Pınar and Jiyan Şitka, YJA (Free Women's Army) Coordination member Ayten Dersim,KCK Executive Council member Besta Fırat, YJA STAR Command member Zin Sorxwin.
Speaking at the military ceremony held here, KCK Council of Presidency member Zaxo Zagros described 8 March as a "day of resistance, rebellion and struggle for freedom", and remembered all women who have lost their life in the struggle, and those keeping the struggle going.
Zagros underlined that 8 March manifested women's determination against the dominant system trying to enslave them and to break their will.
"Resisting women have carried the torch of freedom in all phases of the history. The Kurdish women have taken over this torch and proudly carried it in the struggle they waged for 30 years now, paying great prices since the time of Saras, having never feared to pay a price, and taken further steps every day until becoming an organization, an army and a party. And today they are heading towards the building of a democratic nation", Zagros said and noted that Rojava revolution was one of the most concrete results they have achieved.
"If there is taking place a women's revolution in Rojava today, women's centers are being founded and social works are being performed with an aim to build a democratic nation, this is related with the 30 year old struggle we have given", she added.
Zagros stressed that Kurdish people's leader Abdullah Öcalan had a determining role in the Rojava revolution through which -she underlined- a social system is being build under the leadership of women, a system thtat has been expected by Kurdish women and all other women in the Middle East.
Zagros said all women across the world should support the Rojava revolution led by women, and mobilize to establish the system, which guarantees the freedom of women, in all places they live.
The level of freedom the Kurdish women have reached today -Zagros said- enables them to bring the dominant system to book and to build a new system.
"No massacre, no fear and no lie can prevent the women's march to freedom. We voice our gratefulness to all women who have lost their life in the struggle for women's freedom, and re-voice our promise to bring the five thousand year old dominant system to book", Zagros said and celebrated the 8 March International Women's Day of all women and mothers in Kurdistan who have paid great prices so far.
Source: Firat News Agency