According to Campaign in Defense of Civil and Political Prisoners, the Kurdish Political Prison Loqman Moradi was transferred to Imam Khomeini Hospital due to severe injuries and bleeding in the urine because of beating by prison officials of Rajaei-Shahr Prison on Monady 23 Feb 2014.
His cellmates say "yesterday prison officials were asked Loqman to wear prison clothing for the defendants to appear in court but he refused. Then people affiliated with the Intelligence Ministry namely Mohsen Mansouri, Reza Yousefi, Said Ghafari and Zolfali beat him with batons and brutal physical violence.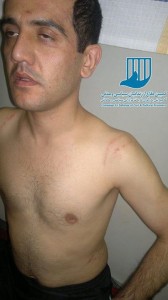 Zanyar Moradi (21) and Loqman Moradi (30) from Meriwan, both death row prisoners from Iran's Kurdish minority, claim they were tortured into "confessing" to the 2009 murder of the son of a senior cleric in Mariwan. They were sentenced to death in December 2010 after being convicted of "enmity against God" (moharebeh) and "corruption on earth" for the murder. They were also convicted of participating in armed activities with Komala, a Kurdish opposition group, which conducted armed struggle against the Islamic Republic of Iran.
In this regard, one of these two prisoners' cellmates that are in touch with the Campaign said: "Yesterday, the attorney representing named Khoda Bakhsh visited the Rajaei-Shahr Prison in Karaj. During the visit, Zanyar Moradi asked him about his case. Prison officials responded him that the case has been taken of Judge Salavati and has been assigned to the Criminal Court".
On the other hand, some human rights activists and the family of these two prisoners believe in this file transfer doesn't mean reconsideration at sentence of death penalty or restore hearing, also it has only the public aspect of the case. Perhaps they want to separate Zanyar and Loqman's file in two files, one for the murdering of Imam Jome's son at Criminal Court and the other for the war crimes through membership in one of the opposition parties at Enghelab Court.
They believe that both cases at Criminal Court and Enghelab Court have been done for the final execution of the death sentence for these prisoners.
"This surge in executions shows that behind words and promises, the Iranian authorities continue to rely on state-sponsored killing, sparking fears that Zanyar Moradi and Loqman Moradi, two Kurdish minority prisoners on death row, could be next," earlier had said Hassiba Hadj Sahraoui, Middle East and North Africa Deputy Director at Amnesty International.
"Even the most basic requirements of Iranian law seem to have been flouted and it seems that the prisoners and their families were not notified and families only learned of their executions when they went to visit their loved ones," had said Hassiba Hadj Sahraoui.
Earlier Amnesty International had highlighted "human rights in Iran have remained a low priority despite earlier promises made during the presidential campaign; furthermore Iran's prisons remain full of political prisoners and prisoners of conscience, many of whom suffer from lack of adequate medical care".
The United Nations General Assembly and the Human Rights Commission have condemned prior and ongoing abuses in Iran in published critiques and several resolutions.
Rojhelat.info