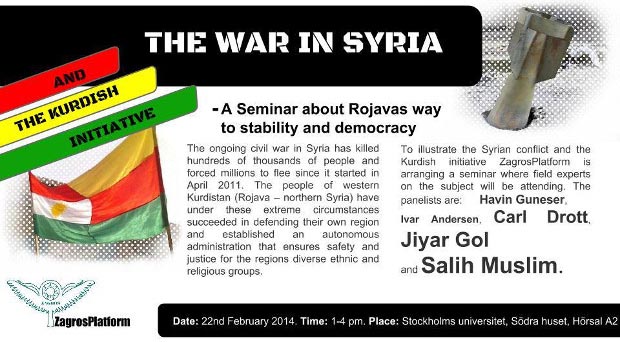 The ongoing civil war in Syria has killed hundreds of thousands of people and forced millions to flee since it started in April 2011. The Syrian regime along with international actors and regional centers of power such as Saudi Arabia, Turkey and Iran are directly or through their jihadist and salafist organization fellows involved in the war on the civilian population.
The people of western Kurdistan (Rojava – northern Syria) have under these extreme circumstances succeeded in defending their own region and established an autonomous administration that ensures safety and justice for the regions diverse ethnic and religious groups. This new democratic initiative in Rojava could be considered as a modern response to the failed nation-state project that was applied in the Middle East by the colonial powers after WW1.
To illustrate the Syrian conflict and the Kurdish initiative ZagrosPlatform is arranging a seminar where field experts on the subject will be attending. The panelists are Havin Guneser, the journalists Ivar Andersen, Carl Drott, Jiyar Gol and Salih Muslim from Rojava.
Event on Facebook: fb.com/events/435781556553777
Date: Saturday, 22.02.2014
Time: 13:00 to 16:00
Place: Stockholms Universitet, Södra Huset, Hörsal A2

Rojhelat.info