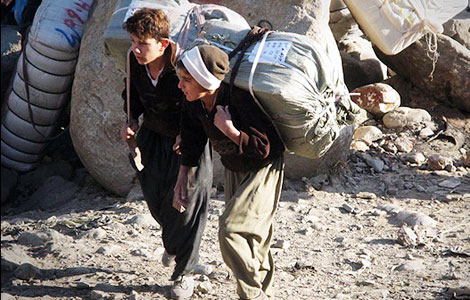 NEWSDESK, — A 13 year old kolber from North Kurdistan who was working on the borders carrying fuel was shot dead by an unknown assailant.
Displayed in the photo, kolbers are those youth who ferry goods across the pseudo-borders of Kurdistan, often carrying them on their back to make living for their families. The goods they carry include tea, sugar, fuel, crystal etc.
The Iranian Revolution Guards Corps (IRGC) set ambushes on their roads shooting them whenever they spot the Kurdish kolbers.
Feyaz Zangin a 13 year-old kolber was the latest victim of such instance of shootings and killings. He was from a poor family having no option but embracing such a perilous job of toiling on the borders in Chaldiran zones.
According to the local sources the body of Feyaz had been buried after the incident of the shooting probably by his assailants. Few days afterward, his corpse was dog out by the local villagers and brought back for his family to arrange proper burial.
The identity of his assailant is not being disclosed until preparing this news, but owing to the fact that shooting and killing of Kurdish kolbers by the Iranian Revolution Guards Corps (IRGC) have been phenomena, all the accusing fingers are pointed to this organisation.
22 Kolbers Were Killed in 2012
According to figures published by ANF, 22 kolbers have been killed by the IRGC since the beginning of this year.
114 Kolbers Were Killed in 2011
In the first 9 months of 2012 more than 80 kolbers were killed by both Turkish soldiers and the IRGC, while 60 more were wounded. In the following 3 months, the IRGC had killed 28 kolbers. Turkish warplanes massacred 34 Kurdish kolbers in Roboski village. Altogether 114 kolbers were killed in 2011.
68 Kolber Were Killed in 2010
According to ANF figures 68 kolbers had been killed on the Turkey and Iranian borders and dozens more had been wounded or disabled. Furthermore 90 kolbers had been killed in 2009.