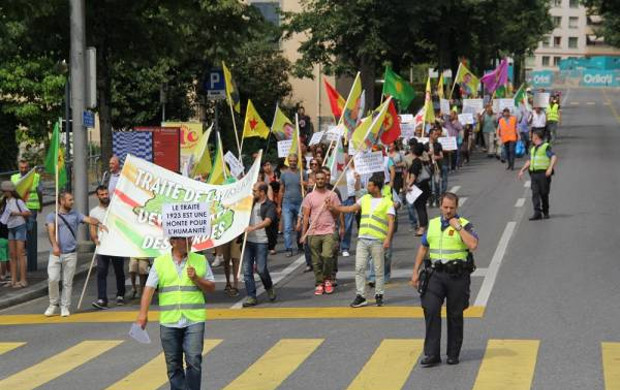 Each year people of Kurdistan gather in the city of Lausanne to protest the namesake treaty by which Kurdistan was partitioned into four. On the occasion of the 94th anniversary of the Lausanne Treaty, many people gathered at Riponne square in Swiss city Lausanne and marched towards the Ouchy square, opposite the very building where the treaty was signed.
As they marched, the demonstrators kept chanting slogans as "Freedom for Öcalan", "We'll never give way to a second Lausanne", "Long Live the Rojava Revolution" and "Status for Kurdistan", while holding banners and posters reading "The Lausanne Treaty is a shame of humanity", "Kurds never accepted the Lausanne Treaty" and "Lausanne is void today".
THE LAUSANNE TREATY IS VOID TODAY
The march went on with a rally, after the mass reached Ouchye square, and a statement was read out in French about the devastating consequences of the Lausanne Treaty on the Kurdish people. The statement included a call for Kurdistan to get a status, and stressed that the Rojava Revolution has changed the realities on ground to a degree which leave the Treaty of Lausanne void in effect.
YOSUF: END THE CENTURY-OLD MISTAKE
Following the statement, Tenzila Yosef spoke on behalf of PYD and recalled the manner of how the imperialist forces partitioned Kurdistan by means of the Lausanne treaty, and that it has never been accepted or acknowledged by the Kurdish people. Yosuf said, "The resistance of Rojava has turned all imperialistic plans upside down. It is time for the century-old mistake to end".
SAĞLAM: THE KURDISH PEOPLE SURVIVED THANKS TO ÖCALAN
Speaking after, Salih Sağlam held a speech on behalf of Geneva-Democratic Kurdish Society's Center, in which he stressed the aggravated isolation on Kurdish People's Leader Abdullah Öcalan and called on everybody to step up efforts in unison for the Kurdish leader's freedom. Remarking that Öcalan's teachings have voided all the plans of those that sought to divide Kurdistan 94 years ago, Sağlam said: "Öcalan is the reason that the Kurdish people have survived. If the treaty of Lausanne has been rendered invalid today, it has been achieved thanks to leader Apo. The Kurdish people never did and still do not acknowledge the borders drawn for them. We will continue to speak out for Öcalan, at any cost, and we will build a free Kurdistan with free leader."
The rally ended after the speeches with slogans "Freedom for Öcalan, status for Kurdistan".
Firat News Agency ─ ANF