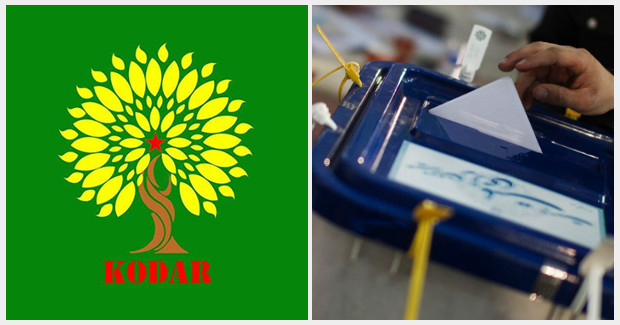 The East Kurdistan Democratic and Free Society (KODAR) has released a comprehensive plan of action regarding the approaching presidential election.
KODAR stated that they see irregular political environment inside Iran as the 12th presidential election period and 5th election of city and village councils is approaching.
With regard to the critical situation in the world politics, KODAR said the Islamic Republic of Iran and its society will have a stage with magnificent sensitivity ahead.
KODAR recalled that they had released theoretical and practical approach on the framework of the regime and the society in the road map they published under the name "the democratic approach to the Kurdish question and democratization of Iran".
Regarding the continuation of the policy of consolidating totalitarianism pursued by the regime since the early 1980s, KODAR said they base on the demands of the Communities and of the Nations in Iran as the context of this comprehensive plan.
KODAR pointed out that this comprehensive plan of action is to assess the demands and political opinion of the political, cultural, and legal circles of society, the sense of their own presence in the election cycle.
On this basis, KODAR listed the following provisions as to their final position in relation to the aforementioned elections based on political parties and candidates that were involved in the process:
Transition from the current military and security environment to a transparent political space.
Constitutional amendment as a key factor for changing the current political chaos.
Recognition of the right of every citizen and social group to hold demonstrations and civil disobedience for clearing the extrajudicial and legal obstacles to the activities of political parties and social groups.
Cancellation of all regulations, legal articles and laws that legitimize oppression and discrimination against women.
Promotion of administrative decentralization instead of centralized management, and recognition of the right to local administration at political, cultural, economic and educational level.
Recognition of youth's involvement in all administrative areas, especially in the establishment and management of institutions and organizations that are dedicated to young people.
Recognition of the Kurdish question and handling of the problems of other peoples in Iran in order to remedy this issue, and recognition of local administration in all areas of Iranian territorial geography.
Right to receive education in mother tongue to the highest educational level for all Iranian peoples ranging from Azeri, Arab, Turkmen, Balooch, Kurd and other cultural communities.
End to all the projects destructive of the environment, especially the indiscriminate building of the dams.
Cancellations of projects and programs that are not combined with the benefit of majority, and recognition of the right to production and management of native units by the society.
Unconditional release of all political prisoners and abolition of the inhumane death penalty.
Lastly, KODAR reminded that the Kurdish people and other nations in Iran are always in demand of their rights and will not surrender for less, adding; "So if regime, government and political circles in the election give a positive answer on the aforementioned points, this will create a free environment to practice the most basic human rights, then we can be optimistic on changing the country toward democratization. Otherwise we will continue our struggle and freedom approach and will use the current environment in benefit of our people."
Source: Firat News Agency ─ ANF