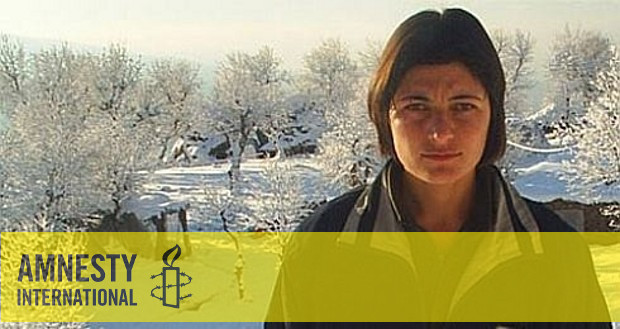 Amnesty International: Kurdish female political prisoner (Zeynab Jalalian) is on the verge of blindness.
Amnesty International in a statement on 19 October, stressed that Zeynab Jalalian who is serving life imprisonment following an unfair trial is on the verge of losing eyesight. Judicial Officials are denying her access to specialized medical services including urgent surgery.
According to HRANA (Human Rights Activists News Agency), Amnesty International called on Iranian authorities to provide required immediate medical care to Jalalian, the Working Group on Arbitrary Detention of the United Nations requested the immediate release of Jalalian. She should be free and provide with fair trial without recourse to the death penalty. The committee requested investigation on those responsible of alleged torture on Jalalian.
It should be mentioned that in June this year, the Working Group on Arbitrary Detentions of the United Nation presented their 75th session (18 to 27 April 2016) conclusion to The Council with the Zeynab Jalalian issue. The report mentioned that according to the procedure communication with the Iranian government have been done, but the response has not been received. Jalalian's arrest and sentenced is against the materials and various resolutions and treaties of the United Nations and called for release of her and the other arbitrarily detainees in Iran. The Committee urged the Iranian authorities to be accountable for the "serious charges" against them in the report.
Zeynab Jalalian, born 1982, was detained in prison since 2007. She was sentenced to life presentment, detained in Khoy Prison. Her prison leave have been denied for over 9 years. She was arrested in 2007 and in 2008 been charged with one year in prison for illegal exit from Iran and death sentenced on waging war through membership in PJAK. She is currently in Khoy prison.
Earlier, Ali Jalalian and Amir Salar Dawoodi, Jalalian's Father and lawyer, mentioned in an interview that Zeynab's eyes syndrome require surgery outside of the prison.
Source: HRANA ─ Human Rights Activists News Agency
Translated by Rojhelat.info