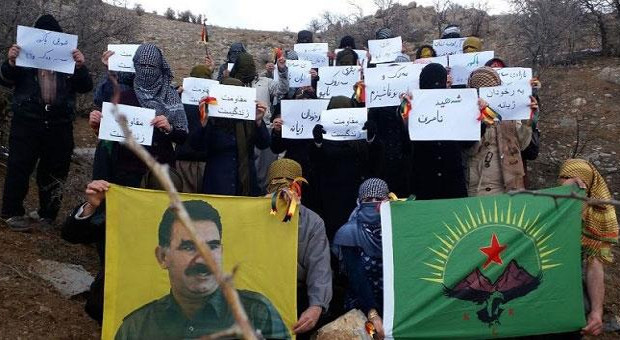 Concerning the activities of protesting conspiracy on Kurdish leader Abdullah Öcalan on 15th February, Youth from Sine, Nexede, Bokan and Mahabad in Rojhelat (eastern Kurdistan) to protest such conspiracy hanged posters  and pictures on walls and declared statement.
The Young Rebels from Sine
The young rebel of "Şehîd Bêrîvan" committee from Sine protested conspiracy about Abdullah Öcalan. Young rebels ask youth to join YPS (Civil Defense Units).
On the date of 14th February 2016 near in Sine city a group of the young rebel, "Şehîd Bêrîvan" committee, protested conspiracy on Kurdish leader Abdullah Öcalan which was on 15th February 1999. They declared also that they support Bakur's (northern Kurdistan) self-determination.
The group of the young rebel announced that they are supporting people resistance in Bakur, YPS (Civil Defense Units) and YPS-Jin (Civil Defense Units – Women). They called Kurdish youth to protest conspiracy and also to stay beside Bakur resistance against Turkish fascist government.
Young rebel had Abdullah Öcalan's posters, Eastern Kurdistan Youths' (KCR) flag and some placards with slogans such as "Rest in peace martyrs", "Resistance is Life", "Bakur revolution will win", "Freedom for leader APO is freedom of the Kurdish nation".
Young rebels mentioned: "We have been more forceful that Kurdish nation will not be longer destroyed and this begun from Bakur. Democratic Self-determination also will be established within YPS leadership beside YPS-Jin. The Kurdish revolution will take place. YPS is northern Kurdistan power, we as young rebel from Sine will support their effort against Turkish fascist regime and also we are willing to join them and keep them strong. At this moment while the four parts of Kurdistan and all middle east are fundamental changing in the history, the youth from Rojhelat and YPS in Bakur will do same as Kobane. Our struggle will be against fascism of Turkish and Iranian regime. Without doubt joining youth in front line will guaranty Kurdish nation's freedom and this also will protect everyone in Kurdistan, uniting folks and living together in peace and equality.
We as youth from Rojhelat, especially "Şehîd Bêrîvan" committee in Sine declare, now is the time for resistance and get prepared for struggle. We will no longer accept Rojhelat's suppression by the Iranian regime, definitely, we will struggle to achieve the highest. The same way as Bakur revolution, we prepared for resistance to equality for everyone, all ethnics and groups in Iran and Rojhelat. Our message to youth in Sine is that "resistance is life", there will be no other way then resistance and we believe that we will win."
Source: ROJ NEWS
Translated by Rojhelat.info