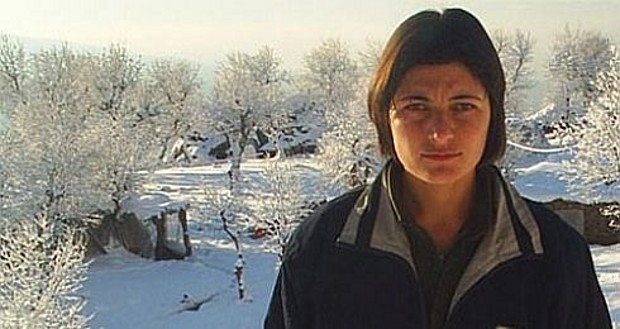 The prosecutor of Iran's city of Khoy has rejected a request by Kurdish female political prisoner Zeyneb Celaliyan (Zeynab Jalalian) to receive medical treatment outside the prison for her severe illnesses, a reliable source told Kurdistan Human Rights Network (KHRN).
According to the source, Zeyneb Celaliyan has been suffering from Pterygium for several years. In prison of Xoy city, the clinic is very limited and only provides pain killers. As a result Zeyneb Celaliyan has requested to be treated in a hospital outside of the prison, however her requests have been rejected by attorney general on every occasion. It has been reported that even prison authorities understand the severity of her health condition and have no objection for treating her at a hospital. However due to sensitivity of her case, permission for treatment outside of prison is only given by order of attorney general.
The same source commented on Celaliyan's prison condition: "The condition of Xoy city prison is better than her previous location (Rehabilitation facility in Kirmaşan city) and since it is located closer to where her family live, she gets to meet her family members every Wednesday. However, the prison lacks political ward, she is kept in a small cell along with other female prisoners who have been charged with crimes such as murder and drug dealing. Furthermore, prison frequently investigates her room and closely monitors her visits and contacts."
Zeyneb Celaliyan, the Kurdish political prison was born in 1361 (Iranian Calendar) and she was arrested in winter of 1386 by Kirmaşan's intelligence agents. After her arrest, she was tortured in Kirmaşan's intelligence prison for over a month to pressure her to admit her membership in PJAK. She was then transferred to Kirmaşan's rehabilitation facility, yet she was frequently moved to detention center by intelligence agents for interrogations.
In fall of 1387, she was sentenced to execution for allegation of 'Armed attempt against Islamic Republic of Iran and membership in PJAK'. Despite her lawyer's objection of the court's verdict, Kirmaşan's appeal court issued the same verdict and on winter of 1388, supreme court approved the verdict.
In winter of the same year she was transferred from Kirmaşan's Prison to 209th ward in Evin Prison. Prison authorities in Evin have told Celaliyan that her execution order has been issued and that the order can only be stopped if she agrees to participate in a television interview. After spending 5 months in 209th ward of Evin, she was then transferred back to Kirmaşan's prison. In 1390, she received remission from leader of Islamic republic and her execution verdict was reduced to lifetime in jail. In fall of 1393, attorney general agreed to transfer her to Xoy's prison. During the seven years period in prison, Celaliyan was deprived from getting treatment for the illnesses that was inflicted on her while she was severely tortured in prison.
Source: Kurdistan Human Rights Network (KHRN)
Translated by Rojhelat.info