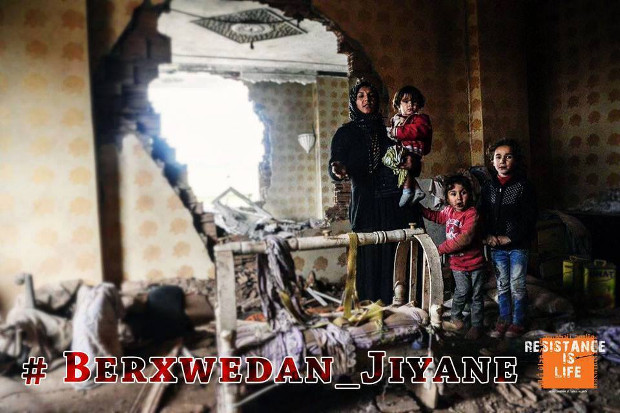 According to the latest information from Rojhelat, Thursday 04.02.2016, people of many cities of Rojhelat (eastern Kurdistan) will march peacefully in solidarity with Bakur. They will protest Turkish state's attacks in Bakur (north of Kurdistan / south east of Turkey).
The campaign of "Resistance is Life" published information about tomorrow's march in their Facebook page. The campaign distributed also more information in their telegram channel @ResistanceisLife.
KODAR (The Free and Democratic Society of Eastern Kurdistan) yesterday declared a statement according recent occurrence in Bakur of Kurdistan. KODAR appreciated Rojhelat people's attitudes and announced their support and appreciation for the campaign of "Resistance is Life".
Rallies will take place in few cities of Rojhelat:
Kirmaşan, Moallem Park
Ilam, Kodak Park
Kamyaran: 12 metri Street
Ciwanro (Javanrud), basij Square
Sine (Sanandaj), Azadi Square
Merîwan, Shabrang
Seqiz, Helo Square
Bokan, Farmandari Square
Bane, Bimarestan Street
Mehabad, Çwarçira Square
Serdeşt, Bêwran
Ûrmiye, Koshtargah
Rojhelat.info