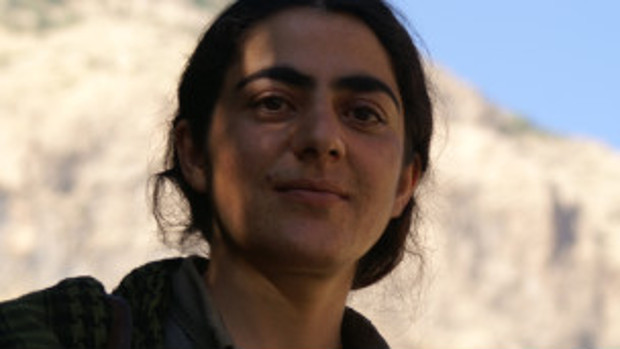 Evîndar Rênas, co-chair of PJAK (Free Life Party of Kurdistan) in Qendil mountains made several notes in regards to ISIS and its supporters and declared: Attack on Kobanî is a strike on Kurds as a nation who strive and advance to define their own destiny in political and cultural spheres in the Middle East.
While praising the resistance in every corner of Kurdistan, especially in Kobanî and Shengal (Sinjar), Evîndar Rênas glorified the people's support from all parts of Kurdistan by describing it as incomparable and added that the attack on Kobanî is not just an assault on Rojava (western Kurdistan) but rather it is an international attack against Kurdish nation through ISIS.
She stated that foreign parties and powers consider 'democratic confederation'  and its achievements in Rojava as a threat to their self-interested projects in the Middle East and pointed that Islamic state's attacks on Kobanî is a mean to target the peace and democratic nature of the Kurdish nation.
Evîndar Rênas announced that the international community was silent for long time about war crimes committed by ISIS in Rojava until that organization initialized its attacks on Southern Kurdistan. She then emphasized that the major powers use this terrorist organization in order to achieve their regional goals in the similar fashion that Al-Qaeda and Hezbollah were used by powers in the region.
PJAK's co-chair stressed that terrorist organizations like ISIS and those alike are being used against nations in the Middle East and added: There is no doubt that the powers not only armed the terrorist group of ISIS and financially funded them, but also in a wider context assisted ISIS to achieve propagandas goals through the medias.
She mentioned: She cannot imagine that ISIS is merely a Sunni movement against Shiasim sect, since it is clear that ISIS also attacked Rojava and committed horrific massacre of Kurdish people with majority of Sunni Islam as their faith.  It is rather clear that ISIS is a plan by foreign forces to implement their desired model in Middle East to prevent the proposal and execution of any political or social projects by Kurdish nation.
Kurdish resistance in four parts of Kurdistan
Evîndar Rênas indicated that foreign forces are well aware that the established model in Rojava is greatly humane and democratic, yet the powers are not only supporting the criminal groups to attack Rojava, but also attempt to isolate it. But the Kurds in four parts of the Kurdistan have reached a level to be capable to confront such attacks and attempts with a national spirit.
Evîndar Rênas elaborated the public participation by Southern and Northern Kurds and their resistance and sacrifice in defending and supporting Kobanî. She proceeded by stating that Eastern Kurdistan was also greatly affected by the Kobanî and Shengal resistance spirit despite Iranian government's rejectionist mentality that never allows Kurds to take a position against pressures of occupiers in other parts of Kurdistan.
Co-chair of PJAK addressed the humanitarian aid campaigns in different cities of Eastern Kurdistan and said: every social strata from civil activists to artists, women and youth shown their will by participating in squares.
Evîndar Rênas asserts that Kurdish nation has shown its national will, managed to practically dismantle the artificial borders, and re-structuring the belief that the Kurds are unable to define their own destination and defending their existence.
She emphasized that one must not consider support of Kobanî's resistance as enough or adequate and also labeled the ISIS's assault on Kobanî as a historical vengeance where participation of youth and women from four parts of Kurdistan is vital factor to the resistance.
Rojhelat.info