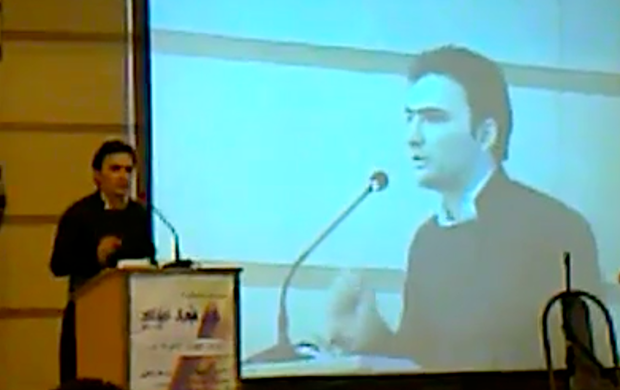 With the coming of the Kurdish national historical anniversaries, Kurds in Rojhelat (eastern Kurdistan) hold ceremonies and conferences to commemorate historical and national events of Kurdistan.
A few days ago University of Sine held a poetry night with the participation of several Kurdish poets.
According to Firat News Agency, on Sunday citizens and students of Sine (Sanandaj) welcomed the famous Kurdish poets who had written to the Rojava Revolution.
In the event of Poetry was attended by famous poets called Simin Chaychi, Ismail Ezemi, Milad Amnollahi, Jila Sefayi, Dilshad Karize, Saman Heyderi and Rebwar Keremi.
Among these poems, poetry of Karwan Perwizi was praised that was the issues of execution for Kurdish youth also achievements of Rojava People's Revolution.
Rojava is the Western  Kurdistan (Syrian Kurdistan) with a population of three million. Despite its relatively small size in terms of area and population, Rojava is today under attack by the reactionary and colonial forces in the Middle East. Embargoes are imposed and neighboring countries try to isolate Rojava by closing borders. Puppet gangs are carrying out massacres.
Now Rojava consists of three main regions: Cizire, Kobane and Efrin. There are working committees affiliated to the Supreme Kurdish Council, governing the autonomous region. The economy, politics, culture and social life are self-governed by the people. The people in Rojava have developed a structure, which could be an example for the whole of the Middle East: a model of administration from below, wherein people actively participate.
VIDEO (source: Firat News Agency)
Rojhelat.info