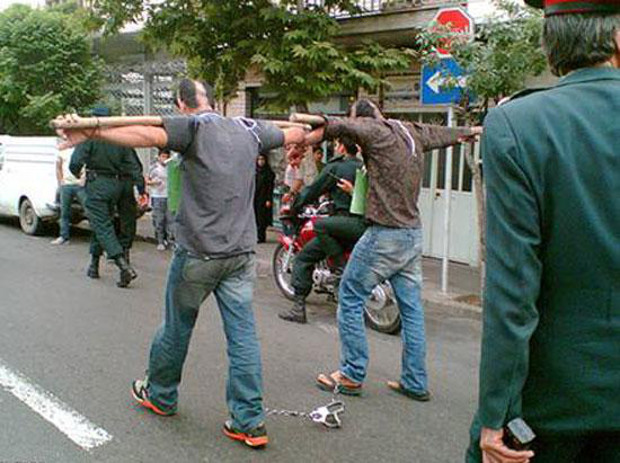 Iran under Rouhani continues to parade prisoners
Turning to punish defendants with chains in the city only been seen in epoch of slavery. Rulers to carry out this inhuman punishment only for creating a climate of fear and destroy the character of prisoners. But over the centuries, these types of punishments are issued by the Iranian courts still.
The Iranian regime's State Security Forces (Police) paraded a man in the northern city of Rasht a day after his arrest. The man identified by his initials as A. B. had been charged with 'disrupting the public order.'
The head of police in the city, Mehrdad Mehregan, said the man had been arrested a day before and was paraded on Sunday in one of main streets in the city based on an order by judiciary officials.
Such degrading punishments are systematically used in Iran by the police for petty 'crimes' in order to embarrass and humiliate the youth in their neighborhood.
The victims are usually paraded with a sign hanged from their neck.
Furthermore on Wednesdaydozens of suspects thugs who were arrested in north of Tehra (Tajrish) were shown to the public by coordinated operations of police and security forces. Fars News Agency quoted.
Last April, three young men were paraded in women's clothing through the Iranian city of Meriwan after being charged with robbery and drug dealing.
A group of women protested the 'offensive' decision by a judge saying the sentence was degrading to women, and particularly Kurdish women, as one prisoner was forced to wear a traditional female Kurdish outfit as paraded in a Kurdish city.
Edited by Rojhelat.info