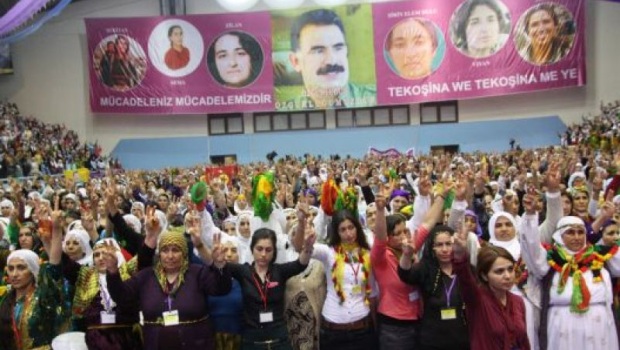 ANKARA, — With the slogan of "Organized women, democratic freedom and free life", the second women council of Peace and Democracy Party (BDP) started by the speech made by the council member, Naile Bali in the sports hall of Ahmed Taner.
Along with female members BDP thousands of women from all over Turkey, northern Kurdistan, Europe and other parts of Kurdistan participated in the congress. After the opening speech a display about Kurdish female warriors and martyrs was showed.
"We are holding this congress to support Mr Abdullah Ocalan and his resistances in the past 14 years," said Kibriye Evren one of the congress speakers.
After Evren speech Melike Birtane the BDP MP in Turkish parliament, from Qers read the message of Kurdish national leader Abdullah Ocalan, in Kurdish language and later Kibriye Evren read it in Turkish.
The message of Abdullah Ocalan to the women congress:
I truly believe that organized women will have plans of free life for revitalization. Surely in this way women will struggle by recourse to their origins. I have absolute respect for those women who lost their lives in this way. Women should become the woman of nation, love and truth before they become the woman of men.
I believe that in the peace stage women also will struggle with honesty. No more like a slave but as liberals, they become a noble force. This matter should become the greatest revolutionary activity in the 21st century. I am not able to show my emotions towards women by words, as long as I could in my life and my ideologies I become an honest friend of women.
My biggest hope was one day women have their own special organization. The biggest issue for me was that once women were Goddess in the history and geography of this land but today they are forgotten and the world become like a graveyard for them. Therefore, I have started my freedom struggles. So my fundamental origins regarding women's struggle provided to them (women). Freedom of women is more important than land and culture for me. I struggled for freedom of women and I will also continue to struggle.
Do not accept a weak-kneed husband. Do not let others to sell you as a good. Your place is not only inside home. You should also have your words to say in all arenas. You should become a liberal woman. Oppression against women is the biggest immorality and reign towards them. Goddess, herself is the creator of herself. A liberal woman is just like sun. "Woman and life" is having great meanings. It is very important that women have the power, ability, freedom and power of decision making. Woman is a precious and valuable creature. Therefore, the phrase of "women and life" is very meaningful.
I also believe that life without woman will be impossible. However, with the modern slaved-women also the life cannot be continued. If the women will, they can free themselves from the five thousand years of slavery. They have great opportunities for creating and advancing a free life. They can create an absolute social life. Like this you can straighten us "men". Transcendental convergence of women is extremely important. In the Middle East culture also this fact is available. If you go back to the Hittites and Sumerians eras, you will see that you can more rely on yourself. For this matter also you have the patience, pain and beauty of it. Keep Seeking for a free life as a foundation of your struggles. Be hopeful and have a belief. You are the women fugle of the Middle East. Like this also, you can become a leader. This is the real valorize of women.
If the liberal struggle of women did get advanced, surely women would continue their lives as slaves. The life of Sekine is a clear example. The struggle of Sekine was for freedom of women. You should follow the Sekine's terror and make it clear. Many heroines were become martyrs. They were all precious and truly I will respect their memories. The best lives are the right of those women who are under oppression. My struggles for peace are the best answer to those martyrs. The peace stage is a great opportunity for subliming women's life. You should always be a warrior for establishment of a permanent peace. You should efforts to the peaceful and democratic organization and leading it. Peace is the women work. If you women take the responsibility of leading the liberation and democratic struggles, you can create a warrior personality. Women are guarantor of human rights and democracy. A struggle will never get success if women do not participate in it.
Rojhelat.info