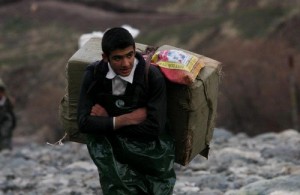 SERDESHT, — Shooting and killing of Kurdish kolbers on the border regions continue. Another kolber and a father one was shot dead by the Iranian Border Guards, local sources said.
A 20 years old kolber and a father of one named as Simko Rihani was gunned down on the borders of Serdesht to South Kurdistan by the Iranian Border Guards.
Kolbers are those workers who carry goods on the backs across the borders selling them in the black markets. The goods they trade include tea, sugar, crystal and fuel.
Dozen of kolbers are killed and many others wounded by direct shot of Iranian Border Guards while some of them die as the result of harsh weather and the unkind climate.