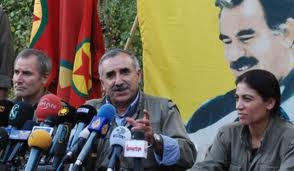 NEWSDESK, — The Executive Council of Kurdistan Communities Union (KCK) issued a statement regarding the continuous isolation of Ocalan, resistance of the prisoners and the policies of Turkish government.
In the statement the KCK interprets the current actions of Turkish government as an attempt to destroy the bridges between nations.
KCK notes that the resistance displayed by the Kurdish prisoners, people's laying claims on the bodies of guerrillas and standing up for them while joining the celebrations for 34th anniversary of the PKK's establishment all indicate the failure of Turkey's policies.
While reminding that the 34th anniversary of the establishment of Kurdistan Workers Party (PK) was warmly celebrated in all parts of Kurdistan, KCK says, this was an honorable position displayed by people and an important massage for the world.
"Despite Turkish government's policy of terror in Kurdistan", KCK observed, "People celebrated the anniversary of PKK with great association. These people did not leave their children during the resistance in prisons and despite the fascism of Turkish government, people rose up in larger dimensions".
The statement adds that the massive presence of peoples of Amed, Wan, Dilok and Persus showed that widespread arrests, political elimination orchestrated by the coalition of AKP and faction of Fathullah Gulen have not reached to their goals.
Pointing to the continuous isolation of Ocalan and the resistance displayed by the 68-days-old hunger strike in Turkish prisons KCK outlined: "The resistance in prisons has had influential effect on political atmosphere of Kurdistan and abroad. With the request of Leader Apo, hunger strike was ended and another chance for democratic solution of Kurdish problem was created, but the continuous isolation of Leader Apo ordered by prime minister Erdogan indicates that Turkey do not intend to solve the Kurdish problem peacefully."
KCK Executive Council interprets the attacks launched on the values of Kurdish nation, as an attempt of Turkish government to destroy the current bridges while adding: "Leader Apo has made a lot of efforts in saving the bridges between nations and creating free and democratic solidarity, but the Turkish government by attacking and provoking the feelings of Kurds, and the efforts to remove the legal immunity of Kurdish MPs, are destroying the current bridges".
In the statement, the KCK deemed AKP's government as insincere and adds; "Turkey wants freedom and democracy for Palestinians but regarding Kurds, it is not afraid of any racial behaviors. Meanwhile, United States of America, European Union and other powerful states have chosen silence in regard to Turkey's treatments of Kurds because of their political and financial interests".
At the end of the statement the KCK emphasizes that it will never accept the deceitful and insincere standards of Turkey.