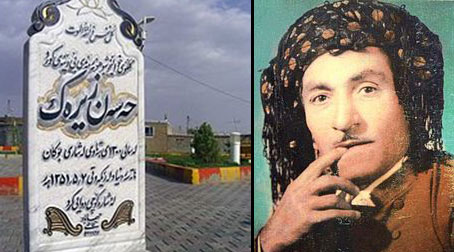 SULEMANI, South Kurdistan, — The Kurdish legendary musician, composer and song writer Hesen Zirek was commemorated in Sulemani in 40th year of his final farewell.
The legendary Hesen Zirek was born in 29 December 1921 into a poor family. He was only a teenager when his father passed away and he had to shoulder the burden his family.
To make the living for his family the teenager Zirek had to work in tea houses as well as in the local restaurants where he was often harsh treated.
Due to the poverty and lack of employment opportunities he had to go abroad in the search of employment. Ultimately he was settled in Baghdad, Iraq, where he had found a job in a hotel.
While he was working in the hotel he came into contact with a number of Kurdish singers and musicians who had noticed Zirek's talent and ingenuity.
Through the help of Eli Merdan (a well-known Kurdish musician), he was invited to Baghdad Radio Station in 1953 where he set a new standard for the Kurdish singers and musicians.
After the Iraqi Revolution of 1958, Zirek was expelled from Iraq. He immigrated to Tehran where he was employed by Tehran Radio Station. This is where he met his wife Medya Zendi from whom he bore two children.
After spending few years in Iran and recording some of his unbeatable hits, Zirek was again forced to leave in 1960. Instead of Baghdad, this time he made his way to South Kurdistan (north-Iraq), where he worked with the Fine Art Groups.
As an artist who is known to have his home packed on his back, Zirek was forced to leave South Kurdistan in 1967. Departing there, this time he went to Seqiz in East Kurdistan and dwelled in there.
In 1971 Zirek fell ill and hospitalised in Urmiye and Bokan. Doctors were not able to save his life as he had a cancer beyond treatment. He died of cancer while he was 50 year old.
Although Hesen Zirek was an illiterate musician and had an unbearable and short life, he composed around 1500 songs, most of which were composed, worded and sang simultaneously.
To commemorate the legendary Zirek, a ceremonial commemoration was held in Sulemani today to revere his work and his magnificent contribution to the Kurdish music.
The commemoration began by putting a cassette in which Zirek speaks of his sufferings and unbearable life along with the terrible experiences he had to suffer as a Kurdish musician.