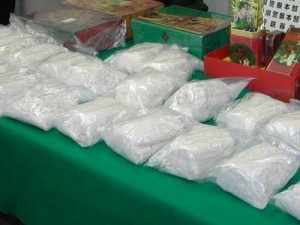 SOUTH KURDISTAN, — The Iranian regime has distributed substantial amounts of drugs in the East of Kurdistan and now is trying to do the same in the South of Kurdistan.
A band of 11 people, distributing drugs were arrested two days ago on 11th Oct in Hewler (Erbil), the capital city of Kurdish Regional Government.
They were under the control of Intelligence Service of KRG for more than 6 months. The members of this band were originally Iranians.
A few days earlier, 9th Oct, another band was arrested in Sulemani, 2 of them were originally Turkish and another was Iranian.
On September this year 2 more bands of distributing drugs were arrested in Xaneqin while they were spreading drugs among Kurds.
The Iranian authorities transport the drugs such as cannabis, heroin, hashish and some others through the artificial Kurdish borders of east and south of Kurdistan, especially through Xaneqin.
In conjunction to this, 56 Iranians were arrested in 2009 in South of Kurdistan and 69 were arrested on 2010 relating to the same matter.
The Kurds in Iran have been exposed to take drugs systematically by the regime, plunging a vast numbers of Kurds into drug addiction. However, this is not enough in the eyes of the Iranian regime and now it is aiming to plunge people from South Kurdistan.