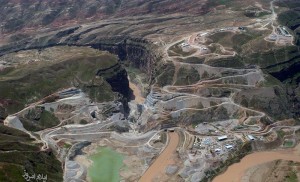 ILAM, East Kurdistan, — Not only the Iranian officials target the Kurdish people; they do also target the nature of Kurdistan and destroy the ancient sites to strip the Kurds of their historical heritage.
Due to a dam project in province of Ilam – one of the oldest civilisations in the world – 17 ancient sites will come under water and be destroyed.
Despite the objection by the environmental and human rights activists, the project of dam building of Seymere in Ilam province had started.
The order of erection of the dam is directly issued by the Iranian president Ahmadi-najad.
Seymere is located 90 kilometres of Ilam city. The dam project will destroy 90% of the ancient sites of the area which belong to the Sassanid epochs.
According to the specialists, there are 17 ancient sites located at the back of the dam, whose origins are dating back to the Sassanid era.