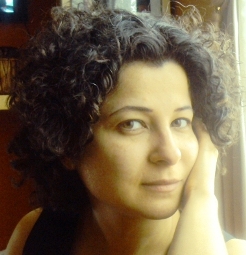 Kurdish Media
Four poems by the Kurdish poet Choman Hardi have been selected onto the English GCSE curriculum. They will be studied by 15-16 year old students across England and Wales. 'At the border, 1979' is on the AQA syllabus. The same poem is also on the EdExcel syllabus alongside 'Invasion', 'Penelopes of my homeland', and 'My mother's kitchen'.
Choman's poems in the GCSE anthologies feature amongst works by British poets and writers such as William Shakespeare, Wilfred Owen, W.H. Auden, William Blake, William Wordsworth, Dylan Thomas, Emily Bronte, Thomas Hardy, Ted Hughes, D. H. Lawrence, W.B. Yeats, as well as contemporary poets such as Carol Ann Duffy (Poet Laureate), Gillian Clarke (National Poet of Wales), Simon Armitage, Seamus Heaney (winner of The Nobel Prize in Literature, 1995
Born in Kurdistan and raised in Iraq and Iran, Choman Hardi came to the UK in 1993. She was educated at the universities of Oxford, London and Kent. A poet, writer and academic researcher she has been Poet-In-Residence at Moniack Mhor Writers Centre (Scotland), Villa Hellebosch (Belgium), Hedgebrook Women Writers' Retreat (USA) and Shetland. In 2006 her poem, 'My children', was displayed in the London underground. Her academic book about the widows of Anfal, 'Gendered experiences of genocide: Anfal survivors in Kurdistan- Iraq' will be published this summer.
In a statement to KurdishMedia.com Choman said: "I feel very proud because I have only been writing in English for ten years and it is great to see my poems side by side with some of the English tradition's greatest poets and writers. It is a great recognition to be part of the British literary tradition in this way. Also since the poems address Kurdish issues I hope that students will be introduced to some aspects of Kurdish history through reading them. 'At the border, 1979' for example addresses the myths and stories created by immigrants about their homelands. It talks about the moment of crossing the Iranian border back to Iraqi Kurdistan when, at the age of 5, I realised that much of what I had been told about Kurdistan was not true. 'The Penelopes of my homeland' talks about the widows of Anfal who waited for their disappeared husbands until the fall of the Baath regime in 2003."
One of the selected poems is "At the border, 1979"
At the border, 1979
By Choman Hardi
"It is your last check-in point in this country!"
We grabbed a drink-
soon everything would taste different.
The land under our feet continued
divided by a thick iron chain.
My sister put her leg across it.
"Look over here," she said to us,
"my right leg is in this country
and my left leg in the other".
The border guards told her off.
My mother informed me: We are going home.
She said that the roads are much cleaner
the landscape is more beautiful
and people are much kinder.
Dozens of families waited in the rain.
"I can inhale home," somebody said.
Now our mothers were crying. I was five years old
standing by the check-in point
comparing both sides of the border.
The autumn soil continued on the other side
with the same colour, the same texture.
It rained on both sides of the chain.
We waited while our papers were checked,
our faces thoroughly inspected.
Then the chain was removed to let us through.
A man bent down and kissed his muddy homeland.
The same chain of mountains encompassed all of us.