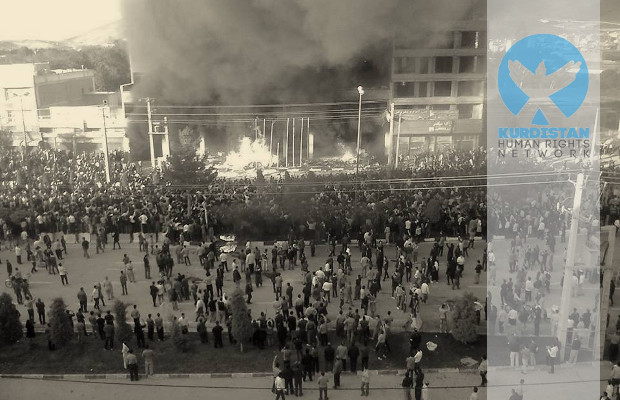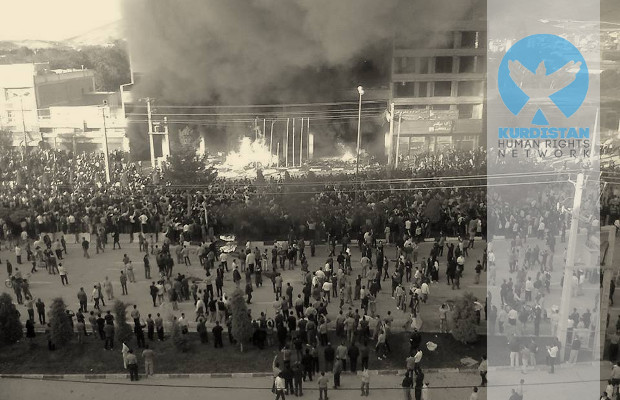 Iranian security forces' crackdown on Kurdish protesters continues to escalate in the city of Mehabad (Mahabad), where one young Kurdish protester has been partially paralysed after sustaining critical gunshot wounds.
A source from inside the city of Mehabad said that Iranian security forces have so far arrested more than hundred protesters in the city and that dozens of the arrested protesters are under the age of 16.
The source stated that the crackdown first began on 7 May, when local protesters burned down the city's only four-star Tara hotel, where Farinaz Khosrawani had died a few days earlier to escape rape, on 3 May.
The security forces have since identified some protesters by monitoring the published and unpublished videos and photos of the protests, which they had managed to obtain either from arrested prisoners or their local intelligence officers of the Etelaat, the source said.
The security forces arrested some of the Kurdish protesters in late evenings during home raids, the source said, adding that heavy military presence continues in the city and that the general public are very wary, even scared, as to what may happen given the deployment of so many troops, well-equipped with weapons and other military hardware across the city's inner neighborhoods.
Doctors have declared that 26-year-old Kurdish student protester Akam Talaj is now partially paralysed despite having undergone a medical operation. He was wounded during the Mehabad protests on 7 May and sustained critical gunshot wounds when the security forces opened fire on unarmed civilian protesters.
He was first taken to the Mehabad Public Hospital and later transferred to the city of Orumiyeh for an immediate medical operation, a source close to his family said on condition of anonymity. The source added that his family was told on 10 May that he was partially paralysed from his waist and down despite the operation.
More than 10 Kurdish protesters were arrested on 9 May in the town of Sardasht bordering Iraq and seven of those arrested are women, who had demonstrated and held rallies in solidarity of the Mehabad protests.
Kurdistan Human Rights Network (KHRN) obtained names of some of the detained protesters from Sardasht. They include Sohayla Zubairi and her daughter Safa Hassan-Pour, Shiler Khidiri, Raza Raza-Zadeh, Faiaq Amini, Mustafa Betoshi, Tahir Rostami and Hemin Maaroufi.
The fate of the above-mentioned detained protesters so far remains unknown.
Meanwhile, KHRN talked to several local prison sources regarding the situation of Kurdish political prisoners and those arrested amid the crackdown just recently. A source based inside the Mehabad Prison said that some of the arrested protesters have been transferred to prisons in other areas such as Naghadeh and Miandwaw.
Kurdish political prisoner Ali-Raza Rasulian was taken out of his cell at the Mehabad Prison on 8 May and transferred to the Intelligence Service office in Mehabad for interrogation, essentially for having published a statement, in which he had expressed Kurdish political prisoners' support for the protests in Mehabad, the source said.
He was taken back to his cell after the Intelligence Service interrogation session had ended, which took some 24 hours.
According to the source Intelligence Service Officers had two days later on 10 May taken Kurdish political prisoner Mansour Arwand to an unknown location and his whereabouts, where he has since been held against his will, are currently unknown.
Arwand was initially sentenced to death by hanging but later the sentence was commuted to life imprisonment.
Source: Kurdistan Human Rights Network