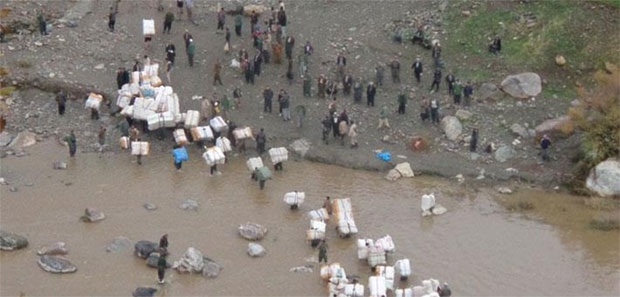 The Kurdish Kolbers from Rojhelat (East Kurdistan) especially from Bane (Sine Province) are going to the border between South and East Kurdistan to provide their livelihood at Shabadin village (Sharbajer function).
The reporter stated that most of the kolbers are porters who are currying Fabrics, light bulbs and cutlery.
A shopkeeper with name 'Ibrahim Muhieddin Hussein' who lives in South of Kurdistan on the border, told ROJ NEWS that although those kolbers who came to the South all they have card permission to work by Iranian government but on the border they were humiliated and sometimes beaten by the border officers.
The shopkeeper said that those workers should cross the river and their livelihood became much harder especially at the winter and their body became wet at freezing time.
Ibrahim said sometimes those porters were humiliated by halt them inside the river by border force officers. Also he said that those workers tried to build the bridge but their attempt was refused by government.
Ibrahim said also that two porters were lost their life while they were curried the heavy goods and halted by border force officers for awhile.
It worth to analyse that Kolbers (carriers) named for edgy workers who has not got other choice and are being forced to earn their living by selling items which are shipped. The majority of them are from Urmiye, Sine and Kirmanshan regions which are doing this job. They have to do this job even they get very low wages to transport the goods on their shoulders for many hours to make living.
In last report, United Nations Special Rapporteur on Iran Ahmed Shaheed highlighted the "indiscriminate killings of Kolbers in violation of the domestic laws and international obligations of Iran."
Source: ROJ NEWS
Translated by: Rojhelat.info