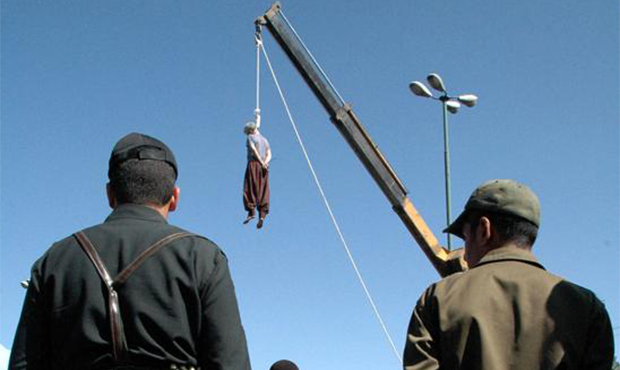 Iranian soldiers watch a man being hanged in Shiraz, south of Tehran © AFP/Getty Images
Amnesty International's 2013 report on judicial use of the death penalty covers a period of January to December 2013. Amnesty records figures on the use of the death penalty based on the best available information.
The report says, the year 2013 was marked by some challenging setbacks on the journey to abolition of the death penalty. There was a significant rise in the number of people executed during 2013 compared with 2012, driven primarily by increases in Iraq and Iran, according to the report. Executions were recorded in 22 countries during 2013, one more than in the previous year. Amnesty International states that at least 778 executions were known to have been carried out worldwide, 96 more than in 2012. A small number of countries – mainly Iraq and Iran – were responsible for the increase.
In Iran neither prisoners nor their families or lawyers were informed of their forthcoming execution, says Amnesty. Public executions were carried out in Iran. Juvenile offenders, according to Amnesty International were also executed in Iran. The execution of people aged less than 18 at the time of the alleged crime is a violation of international law. Amnesty International remained concerned that in Iran… people who were juveniles at the time of their alleged crimes remained in detention under sentence of death.
In Iran and Iraq, some of these "confessions" were broadcast on television before the trial took place, further breaching the defendants' right to presumption of innocence.
Mandatory death sentences continued to be imposed in Iran, Kenya, Malaysia, Nigeria, Pakistan and Singapore. Mandatory death sentences are inconsistent with human rights protections because they do not allow any possibility of taking into account the defendant's personal circumstances or the circumstances of the particular offence.
Killer states
Five states continued to surpass all others in executing their prisoners:
1. China – Thousands, exact numbers unknown
2. Iran – 369 minimum
3. Iraq – 169 minimum
4. Saudi Arabia – 79 minimum
5. USA – 39
Iran, Iraq and Saudi Arabia accounted for nearly 80% of all reported executions around the world.
Amnesty International has documented numerous cases in which the death penalty was seemingly used to oppress activities of political or cultural representatives of Iran's ethnic minorities, such as the Ahwazi Arab, Azerbaijani, Baluchi or Kurdish minorities.
Iranian authorities have become increasingly suspicious of Ahwazi Arabs following the unrest that broke out in 2005 in the province of Khuzestan. In January 2013, the Supreme Court upheld the death sentences of five members of the Ahwazi Arab minority: Hadi Rashedi, Hashem Sha'bani Amouri, Mohammad Ali Amouri, Sayed Jaber Alboshoka and his brother Sayed Mokhtar Alboshoka. They had been arrested, together with three other men, in early 2011, ahead of the sixth anniversary of the 2005 protests, apparently in connection with their organization of cultural activities. They were sentenced to death in 2012 by a Revolutionary Court after being convicted of charges including "enmity against God". Prior to their trial, Hadi Rashedi and Hashem Sha'bani Amouri were shown "confessing" on a state television channel. On 7 December 2013, both men were transferred to an unknown location from Karoun Prison in Ahvaz, Khuzestan province. Four other Ahwazi Arab men were executed in November or December 2013 following their transfer from Karoun Prison to an unknown location on 3 November.
On one weekend in late October, Iranian authorities carried out 20 executions. Among these was Habibollah Golparipour, a Kurdish minority political prisoner. He had been arrested in 2009 and sentenced to death in a five-minute trial in 2010 for "enmity against God" (moharebeh) through his alleged cooperation with a banned armed group, the "Party For Free Life of Kurdistan" (PJAK). His family was not notified beforehand. After his execution, the authorities reportedly refused to hand over his body.
Adopted from Amnesty International UK
Edited by Rojhelat.info