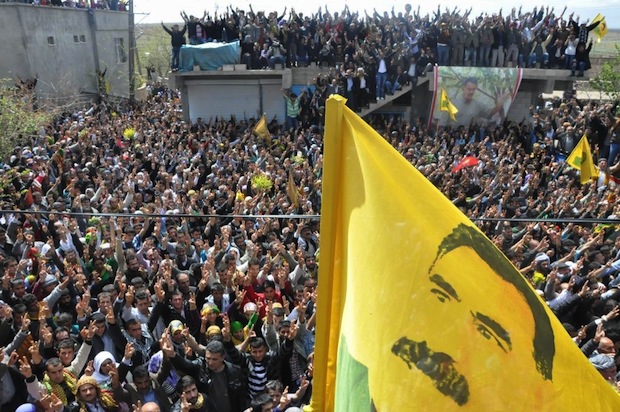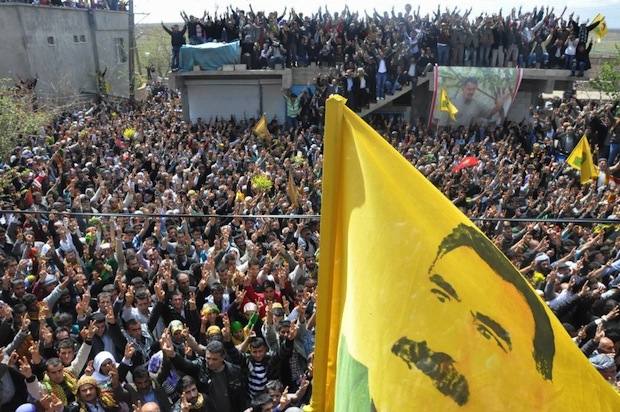 ANF, Amed — Democratic Society Congress (DTK) co-chairs Ahmet Türk and Aysel Tuğluk and Peace and Democracy Party (BDP) co-chairs Selahattin Demirtaş and Gültan Kışanak held a press conference at the DTK building in Diyarbakır about the Newroz celebrations to take place this year in North Kurdistan and Turkey.
Making the first speech here, DTK co-chair Ahmet Türk said that this year's Newroz on 21 March will be celebrated in mass by the Kurdish people, non-governmental organizations, BDP and DTK. Türk remarked that this year Newroz will be celebrated in 42 cities and 130 central locations.
Türk said that the Kurdish people will voice their demands for peace and freedom for Mr. Öcalan at this year's Newroz which -he underlined- they see as the beginning of a new period and the uprising of the oppressed.
Referring to Newroz celebrations in Amed, Türk said that they have sent an invitation to 1950 people, parties and institutions to join the Newroz in Amed. Türk ended his speech by calling on all Kurdish people to take to streets in Newroz areas and to join the march for freedom.
Speaking after, DTK co-chair Aysel Tuğluk said this year's Newroz had a historic meaning for coinciding with the process of dialogue with the Kurdish leader for a democratic and peaceful solution to the Kurdish problem. Tuğluk remarked that this historic process will lead to the determination of the future of Turkey and the Kurdish people. "As Kurdish democratic establishments and components, we attach great importance to the ongoing process and we will continue to display responsibility and contribution to make sure that this process could lead to a solution, democracy and freedom. This Newroz is therefore of great importance", she added.
Tuğluk stated that the Kurdish people will take to the streets on the Newroz day to demand dialogue and negotiation for the Kurdish problem, and freedom for Öcalan and political status for Kurdistan. We will continue to work for democracy and a democratic solution, she added.
Referring to the report recently released by the Parliamentary Uludere Sub-Commission investigating the Roboski Massacre, Tuğluk said that they demanded the recall of the report. She underlined that peace cannot be established unless the Turkish state faces the Roboski massacre and other mass killings and sheds light on perpetrators, takes them to court and apologizes to the Kurdish people for these killings.
Speaking after, BDP co-chair Selahattin Demirtaş pointed out that the message Öcalan is expected to give at this year's Newroz would determine the route of the new period.
Demirtaş noted that it is important in the current process to be able to debate all problems on a democratic and political ground without war, bloodshed and clashes.
Speaking after, BDP co-chair Gültan Kışanak called on everyone siding with a solution and a democratic future to take to the streets on the Newroz day to make contribution to the establishment of peace.
Firat News Agency
(en.firatajans.com)