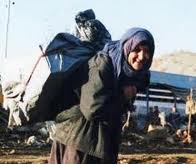 NEWSDESK, — Iranian Security Forces killed a kolber and wounding another one, local sources said, amid the increasing height of violence inflicted upon this sector of society.
According to the latest correspondence, the Iranian Security Forces fired on a group of Kurdish kolbers passing though Rajane village killing one while wounding another one.
Kolbers are those who ferry goods such as fuel, clothe, sugar and crystal on their backs across the border to survive in the harsh fiscal climate.
Dozens of the kolbers and their mules are killed unabatedly by the direct shot of Iranian Security Forces each year.
In this occasion Mr. Hebib Seadetiyan was killed while Shemsedin Koleki was wounded. Several heads of workers' horses are also reported killed by the shooting.