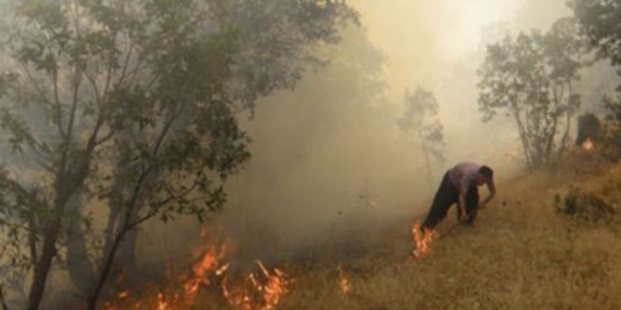 SINE, — The forests of Kurdistan have been exposed to dangerous side of the colonialist rule. More than 500 instances of fire conflagration have been recorded this year.
Eyes witnesses have reported that the Iranian Revolution Guards Corps deliberately set fires on the forests of Kurdistan ostensibly to deprive the Kurdish guerillas of the shelter provided by the jungles.
According to Mukrian News Agency, 570 instances of forest conflagrations have occurred this year in Sine province, destroying more than 2 kilometer of lands.
Mr Bapiri the head of the Natural Resources of Sine province said in an interview with Mukrian News that 95% of these 570 conflagrations have been done deliberately.
To fight the Kurdish resistance movement the Iranian regime is violating the moral and ethical standards by deliberately setting fires on the forests of Kurdistan destroying the natural and vegetation life.