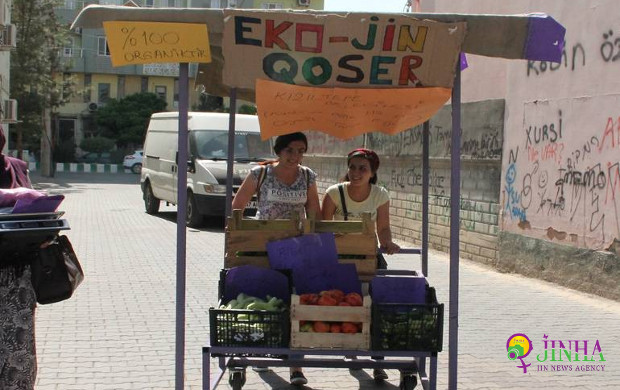 JINHA, MÊRDÎN – Women harvested the first products of the project natural farming, they sell the products by taking them to market dominated by men with purple handcarts as second step.
Nuda Women's Center members, who carry out their works within Qoser Municipality, harvested the first products of natural farming which put into practice in the Hamzali village of Mêrdîn's Qoser district. As second step, women sell the natural products by taking them to market in order to have their own economy and make a place for themselves in the man's world. While women have their own economy by including to production with project of natural farming, they cultivate the soil without damaging the ecology. Women, who carry out works collectively, aim to people returns their villages by choosing evacuated Hamzanli village. Women have faced to reaction of men, who don't get used to see women as an opponent, but the women continue to sell the products callously.
A student in Erciyes University, Department of Sociology, Rewşen Öztürk, stated that the price of their products are same with the price in the market. "Even if our products are organic, their price is same with the products sold in the market. Therefore, people tell us, These products are cheaper here, and I wish I had realized you before." Sellers in the market react to women. Rewşen said: "They don't get used to us, so their reactions to us are normal. We talked to them and as we understand their worries is about their wives will learn and want to sell products here. If we cause that, we will be happy. These fields aren't only men's fields."
Zilan Özel, who carries out works in Economic Unit, pointed out that her work is very enjoyable. She noted that they want to break the perception that men only work in markets. Zilan said: "People want to buy from us due to our products are organic. We have received both positive and negative reactions. Some sellers tell the buyers our products aren't good and natural in order to prevent us selling the products. One told us, You come here to sell the products; my wife will go out when they see you. That's what we want. We want women go out and become socialized."
Women's and Family Services acting director Sevinç Tanrıverdi Öztürk, meanwhile, said: "We went to market to show the markets aren't only men's places. We have several problems. Unfortunately, we feel this male mindset in a small market. Of course, this doesn't discourage us. They say, We won't let you sell your products here, Our wives will go out due to you. Our goal is that, cause women to go out."
"We know that we can manage now, we will extend this project to all villages. Many women will sell the products in the markets soon." said Sevinç Tanrıverdi Öztürk.
Source: JINHA (WOMEN NEWS AGENCY)