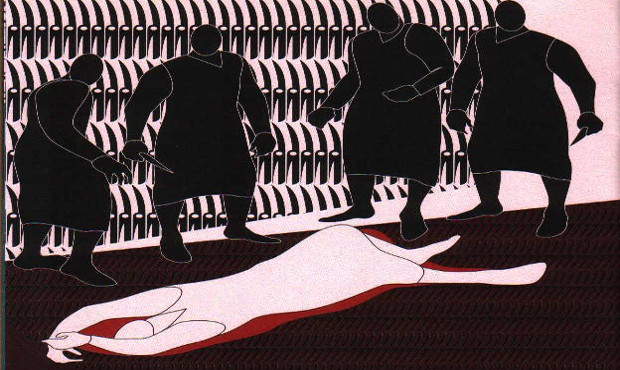 IRANWIRE ─ PARVANE MAASUMI
Friday 19 October, some Kurdish websites released execution of one of the Islamic regime's prominent security figures in Eastern Kurdistan.
Colonel "Hiwa Tab" known as "Hiwa Abdulla Xan" commander of the Iranian Revolutionary Guards (Sepah) in Kurdistan province was hanged in a foggy environment without being reported by the Iranian official media, and his body was buried in Meriwan cemetery on Friday. He was accused of forming a criminal gang that had killed dozens of innocent people under the pretext of fighting against Kurdish armed groups.
Dimensions of criminality and corruption for the military figures in Kurdistan province had reached a level that lead to the establishment of the Martial Court when dealing with the cases.
"Hiwa Tab" was prime suspect and it was claimed that he was involved in relation to the kidnapping of three American climbers in west of Iran mountain's. On that time, the western media including magazine of "The Nation" had done research which stated that three US climbers were kidnapped in Iraqi territory by "Hiwa Tab" groups, not in Iran.
At the same time, the western news agencies noted that "Hiwa Tab" has been arrested in August 2009 on charge of smuggling, kidnapping and murdering, and je is on death row. Even some media have accused him clearly of assassinating Meriwan (Preacher's Son) Imam's son "Mustefa Sherzadi".
Who is "Hiwa"?
"Saman Rasul Pur" a Kurdish journalist, based in Sweeden, who is permanently and actively reporting regime's savage policies implemented in Kurdish regions says about "Hiwa Tab" background: "He joined the Islamic regime's Revolutionary Guards (Sepah) in 1984 and took an active role in fighting against Kurdish armed Parties. Although he was known to the people of Meriwan on that time but originally he gained more fame during the foundation of PJAK (Free Life Party of Kurdistan). Some sources have remarked "Hiwa" link with Turkish National intelligence Organization (Mit) directly or indirectly because of his responsibility in Meriwan Intelligence against (PJAK). Turkish military and security agencies were transferred often sharing their techniques and experiences in fighting guerrilla warfare to the Iranian military-security forces." Turkey has fought Kurdistan Worker Party (PKK) for three decades.
RasulPur points out that according to various sources, Hiwa and his band have murdered more than 300 citizens including villagers, civilians, traders and kolbers1 in the past 10 years. He adds: "in most cases they are wearing the PAJK guerrilla's uniforms on victims' bodies. Also they have received 20 to 40 million toman2 from IRG (Sepah) for delivery of each funeral. Thus, they have pretended that they have been successful in combating against PJAK while according to many sources, Hiwa's criminal gang only managed to kill two PJAK official members".
"The Band also carried out measures such as extortion, rape, weapon and drug trafficking. They had mission for intimidation and denigrating of Kurdish Parties among Kurdistan people in arbitrary manner or systematic form. Rasul Pur continues.
The common point for victims was that most of them were selected among naive man who does not make much noise to kill them. Thus, more parents thought their children are lost but were informed later by the Martial Court that they were killed".
The Case is still open for us
"Iran-wire" has interviewed with sister of one of victims who have been murdered by "Hiwa Tab" group. The interview can help to clarify some aspects of the crimes.
Interview was conducted on the condition that his name and city not to be mentioned in the report. So we say 'they are living in the border cities of Kurdistan'. For the safety of her family's life.
How did you understand the disappearance of your brother?
I do not remember the exact date. It was a few weeks before the presidential election about 15 or 16 of May 2009. Of course, I tell these things quoted from my mom. On that time I was in the university and did not know about the incident. My brother was at home on that day; as usual his friends were looking for him and they went out together. These two were so closed and they were always together, both were same age 22 years old.
But unlike everyday, they did not return home that night. My mother was so worried because my brother's phone and his friend's phone too, were switched off. She called the friends to get in touch but no one had any news about them. My family was very worried about the loss of my brother, were notified by the police station. They went to the hospitals to search for them but there was no sign of them and no one was holding any news about them. My family sought Telecommunications Office help to keep track of their SIM card but they did not find a trace of them.
Time passed and we were still unaware. It was a very frightening situation prevailing in our family, unimaginable circumstances. Our heart was beating by sound of the bell which is perhaps a sign of my brother. Mother sees nightmare and we were spent days and nights in sadness and anticipation. Even we went to other cities to find traces of them and have released announcement in terminals.
Did not have any speculation the police officials? Did not they say something to you?
They said: maybe they are linked to PJAK. I even tried to get help from some friends who are abroad to contact with the Party. I sent my brother and his friend photos and all personal details for them, just in order to make sure whether they are among them or not, and we asked them please once you find out whether they are affiliated with PJAK let us know as soon as possible. However, they stated that they do not know anyone with such specifications.
Is it possible that your brother has been a member of the Party?
Not at all, my brother was not really interested to be involved in politics. But we said perhaps someone is forcing them. When you're in absolute ignorance and fear you will do anything that is promising. It was important for us to find him.
When did you notice that your brother is dead?
Two years after disappearance of them. On October 2011, unknown person called us and stated that my brother and his friend have been killed by "Hiwa Tab" gang and we should refer to Tehran Martial Court.
Did you know them when you heard his name on that time?
Not at all, we had never heard his name.
In the two years did someone refer you to say that your brother has joined the armed groups or he has been killed in armed conflicts?
No. We were completely unaware. There was not any source to stated that and no one made such claims to us.
What did they say to your family in Tehran?
The anti-revolutionary Group3 led by "Hiwa Tab" have killed more than 300 civilians. They have been wearing the PJAK guerrilla's uniforms on victims' bodies and they have got money for delivery of each funeral from IRG (Sepah). Officials said when my family went to Tehran.
Is this statement was made in the Court?
There was never any hearing of the court and the hearing was not public. After that we were only contacted by three people. They have emphasized constantly that government is the plaintiff's case as well so will do all the work.' The Group are anti-government and we will not allow them to escape justice and we will get your children rights. We are disappointed and saddened by this situation even more of you'. Official said. Every time my parents went to Tehran did not meet with any judge or hearings. It was just kind of information in the case of those who have been arrested or have fled.
My father stressed repeatedly to get a lawyer to investigate the case but they said angrily: we could not tell you anything and you never know what has been going on. Even we sent email and letter to Iran Supreme Leader4 and president's public office5 but we never had a respond from them.
When? After you've moved to Tehran?
Yes. Same time
What was your demand?
We've asked to investigate my brother's case and to talk to Hiwa Tab face to face. We want to take over the bodies of children but they have not been delivered their corpse to us.
So are you still looking for a convincing answer?
Yes. We are waiting for my brother funeral till now.
What was the Officials response?
They said there is not a corpse due to its decomposed.
I'm really sorry. It is tragic:
It was realy a heavy lose that my family suffered, and it is also worth when you cannot do anything, then you start to blame yourself.
Did you want to reveal the case? For example "Kiyanush Asa" or "Sohrab" cases whom protested their families openly?
My father had threatened them that he will be interviewed by the media if the case is not clearly revealed to the public. Because of the security situation also the members of this Group are the Intelligence members and IRG officials, this story should not be revealed, they said. "Kiyanush and Sohrab" cases were different, when they were killed, the cause of their death was clear to the public.
Once I came back from the university to my city while I saw a missing notice related to a mechanic student of Tabriz University. The boy lived in nearby my town. It was exactly the time when we've searched for my brother and his friend. I did not tell it to anyone but once my mother had gone to Tehran Martial Court, had met the boy's mother who was studied in Tabriz University. We were hoping that maybe my brother is alive because we could not believe that he was dead.
Now the "Hiwa Tab" is executed, do you want to pursue the Case obviously?
I'm not sure he is hanged because we've never seen him. At least the victims' families should have been asked to attend his execution but it never happened. When the Supreme Leader (Khamenei) came to Kurdistan, many victims' families have asked for public judicial proceeding.
How many names were mentioned in the letter?
I don't know exactly how many were there but they were many.
Where did you get the 300 killed names?
The Martial Court told us the numbers of victims were about 300 people or more. The court was not ready for unknown reasons to provide for details about the context and the content of the case.
Do you think the letter was written to the Iran's Supreme Leader was beginning to track the fate of your brother and other victims?
Yes I think so. Although we did not send a letter to ISL on that time but later the Kurdistan people particularly Meriwan were sent a letters to him. 'The number of missing is much and we don't know what has happened to them. People had written'.
Was "Hiwa Tab" still working for IRGC after the ISL arrival to Kurdistan?
Yes. According to Officials statements, he was arrested on February 2010.
What did you feel when you heard thatthe "Hiwa" has been executed?
My father had seen the news on websites. It was not much highlighted in the media. I really do not trust them.
Were not yout happy?
No, I would just cry because it was revived again to me all the terrible memories and horrible dreams. I don't think my family will ever be happy to hear this news.
Now what are you planning?
I will make sure to follow the Case if the situation gets better. For now no change has occurred on government system. Few times I wanted to go to the Judiciary but I gave up for my mother.
Because of your mother!
I was arrested two days in late of June 2009. That time the family were looking for my brother like crazy. I feel ashamed of this situation especially I did not know what would happen to me.
Have you been arrested due to "The Green Movement"?
Yes, I was very active but after this incident everything was stopped. Now our mental conditions are not suitable to pursue the Case.
Is your brother's friend family had a similar situation and story?
Yes, Perhaps even worse.
Do government has offered the compensation to you?
Yes, they wanted to pay blood-money but we have rejected. 'We need to know who killed our son and why would the government to pay compensation? My father said'.
Now what are your desires and expectations exactly?
I don't know about my family demands, but I'm looking for an opportunity. The Case is still open to me.
What would you have request, if you see one of the Iranian Judicial senior authorities?
I don't know what to say. I don't have any demands of those who do not deliver my brother funeral and have revoked his ID card without our knowledge.
If there is not the corpse and "Hiwa Tab" has been the cause of death, if he is executed!
I have not a positive view for death penalty. Mostly I wanted to meet him face to face. Maybe the Case is closed for government with Hiwa's death, but it still open for us and it is not over.